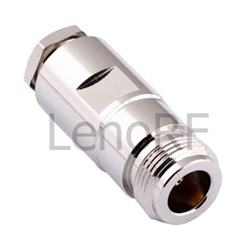 (PRWEB) August 31, 2014
Recently, a famous electrical accessory company, LenoRF, has released its new assortment of N Connectors. The new connectors are now on sale. All clients can get a discounted price, up to 30% off. The company's discounted N Connectors are of top quality, and they are especially made for those who never compromise on performance and price.
"We are glad to launch the promotion for worldwide clients. You know, our products sell well in the global market. A lot of our customers have supported our company for quite a long time. We insist on making high-quality items and believe that our great accessories and sincere service will bring us more customers," the sales representative says.
It is worth to mention that LenoRF's website is a user-friendly platform of high end electrical accessories. The website is updated weekly to include the latest products and special offers. In addition, the buying procedure is simple and secure. All ordered items are guaranteed to be delivered as soon as possible; the new N Connectors are no exception.
The company is famous for high quality electrical accessories that are available at unmatched prices. Along with affordable N Connectors, LenoRF provides a huge selection of useful items, including coaxial cable connectors, semi rigid coaxial cables, RF cable connectors, SMA cable connectors, and so on. Many of them are warmly welcomed in the international market. Thus, it has now become a popular brand among worldwide consumers.
About LenoRF
LenoRF is an online shop of high end electrical equipment. It is a China based company that aims to provide customers with high quality products at the lowest possible prices. Most customers come back soon after receiving their first deals.
More details about the company's useful products can be found at http://www.rfcnn.com/N-Male-Clamp-For-LMR400-Short-Version-RF-Connector-417.html.