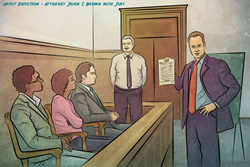 New York, New York (PRWEB) August 30, 2014
A judgment for maximum statutory damages was entered in August against New York-based company Napco & Sons (Eastern District of New York Docket, # 2:14-cv-01710-LDW-ARL). The judgment was in favor of two former employees who alleged they were not paid proper overtime compensation and that the company was liable for violations of the Fair Labor Standards Act (FLSA). There has been an uptick in FLSA litigation due in part to the difficult economy and employees who have more access to information via the internet educating themselves about their rights.
The Plaintiffs were represented by The JTB Law Group, LLC. According to Jason McLaren of the JTB Law Group, LLC, the case involved two construction workers who were denied overtime compensation for hours worked over forty in a given workweek. The workers were paid a daily rate regardless of the amount of hours worked each day. A civil complaint was filed in United States District Court for the Eastern District of New York on March 14, 2014. Judgment was entered August 18, 2014 for maximum damages, which consisted of Plaintiffs actual damages, liquidated damages under the FLSA, and Plaintiff's costs. The liquidated damages of the FLSA essentially enable double damages.
Jason McLaren, the attorney for the plaintiffs, said, "This judgment is a victory for employees and demonstrates if you work overtime, you're entitled to be paid overtime." Jason T. Brown, managing partner of JTB Law Group, states, "Wage and hour violations have become an epidemic in this country," and adds, "It effects our most vulnerable citizens who deserve equal pay for equal work."
About The JTB Law Group, LLC
The JTB Law Group, LLC handles matters nationwide in conjunction with local counsel, with a focus on Employment Litigation, Pharmaceutical Product Liability Litigation, Medical Malpractice, and Catastrophic Personal Injury Litigation. JTB's Mass Tort division has been successful in obtaining favorable settlements for numerous women who allegedly experienced thrombolic events such as deep vein thrombosis (DVT), pulmonary embolisms (PE), strokes and death due to drugs such as Yaz, Yasmin, BeYaz, Gianvi and Ocella. The firm also handles cases involving Trans Vaginal Mesh (TVM), alleged metal on metal hip failures (Stryker, Depuy), Actos allegedly causing bladder cancer, Benicar related injuries, DaVinci Robot surgery injuries, and most recently is accepting cases for injuries allegedly caused from Xarelto blood thinning complications. Jason McLaren from the firm has a medical background and was a licensed pharmacist. JTB's Employment Litigation division has successfully settled and obtained judgments for numerous cases asserting various labor violations including violations of the FLSA, FMLA, ADA, and anti-discrimination laws. The firm is headed by Jason T. Brown, who was a former FBI Agent and Legal Advisor and is rated a Top 100 Trial Lawyer nationwide according to the National Trial Lawyers Association and a Top 10 Lawyer in the state according to various sources. Past successes do not guarantee future results and this may be considered attorney advertising.