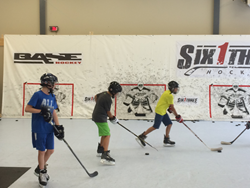 the kids just step on and take right off, just like on real ice
Ottawa, Ontario (PRWEB) September 03, 2014
Six1Three Hockey is a state of the art hockey skills training centre that just opened in the Ottawa suburb of Stittsville. If the early user traffic is any indication, then the new hockey training complex is in for a busy season. Owner and partner Jordan Goodfellow has been pleased with the number of kids checking out the facility. "Both kids and parents are excited about the skills opportunities this facility delivers," he indicated. "The initial numbers have been excellent, and the feedback has been extremely positive. We have excited kids and happy parents!"
The facility boasts a 2,000 square foot SmartRink synthetic ice surface that the users are finding comparable to real ice. When asked how the kids are adjusting to the hi tech synthetic surface, Goodfellow indicated that "the kids just step on there and take right off, just like on real ice; it's been a very easy transition for the kids."
The main focus at Six1Three is to develop key hockey skills. Users can sign up for the "Snipers Range" and practice their shooting and get instant feedback on a radar that measure shot velocity. They can also sign up for various fundamental clinics that focus on stick handling and shooting fundamentals. The clinics are taught by facility trainers with expertise in these skills. Players can even sign up for a one on one analysis of their shot which will break it down using video feedback allowing the player to see what the trainer see's. From there the players can have a custom stick fitted to their particular shot by customizing the curve, the lie, and the flex of their stick. Six1Three is about getting results quickly and they are able to show a player tangible improvement within that first hour lesson.
The facility is a great alternative to practicing on real ice. As one parent indicated, "It's conveniently located in the community, the instruction is top notch, and it's very reasonably price. The kids love it!"
If you are interested in finding out more information about Six1Three Hockey, then you can visit their website at http://www.six1threehockey.com