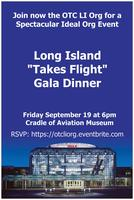 Our Ideal Organization will substantially help solve these major social problems in Long Island.
Hicksville, NY (PRWEB) August 30, 2014
The establishment and creation of Ideal Scientology Organizations throughout the planet has been one of the main strategies of the Church of Scientology in order to create a positive impact around the world.
Architecturally stellar buildings with high aesthetics and staffed with top trained executives and trainers deliver L. Ron Hubbard's spiritual technology to millions of people worldwide. Vital statistics demonstrate that significant reduction in crime, major decrease in substance abuse and a betterment in people's quality of life are some of the benefits associated with the creation of an Ideal Organization in any region of the world.
Long Island has not been immune to many of these problems. In February 2014, CNN reported a major explosion in heroin use and drug related deaths, while the New York Daily News reported yesterday about a child who shot his father to death as a result of his drug addiction.
"The Church of Scientology in Long Island offers many courses and other programs that can help kids and families find solutions to these problems," says Dr. Dimitrios Kostopoulos chairman of the committee that organizes the event and adds, "This event will help raise funds for the establishment of our Ideal Organization that will substantially help solve these major social problems in Long Island."
The event entitled "LI Takes Flight" will take place at the Cradle of Aviation Museum in Garden City on Friday September 19th and starts at 6pm. The Gala Dinner event will include live music and several guest speakers from around the country. A special awards ceremony will acknowledge the life achievements and contributions of Long Island Scientologists with the presentation of Life Achievement Awards.
Tickets for the event can be purchased at: https://otcliorg.eventbrite.com or here.