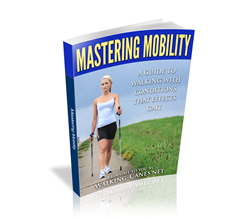 Mastering Mobility Ebook
Orlando, Florida (PRWEB) August 31, 2014
Walking-Canes.Net has released several articles related to problems with gait walking and how a mobility device can help in making gait problems easier. The new ebook is now available for free download from the website that contains all of the news articles that were created by a medical doctor for this site.
The articles deal with diseases that make walking a problem and how a good mobility device like a walking cane can help in making life easier for the patient. The articles are written on Multiple Sclerosis and Gait Abnormalities, Obesity and Gait Abnormalities, How Osteoarthritis Affects Gait, Diabetes and the Need for a Walking Cane, and Parkinson's disease and the Need for a Walking Cane. These articles have all been put into a free ebook for download by visiting the Mobility Research Page.
Many people come down with diseases every day that take a toll on how walking is accomplished and how getting around can be more of a problem that most people think it can be. If a love one is having problems then taking the right course of action can help in making that person's quality of life better. Walking-Canes.Net has a very product rich website that can go a long ways in making the quality of life better for patients that have gait walking diseases.
Over the course of a lifetime most people will know of someone that needs or has a need for a walking cane. One way to help is giving information that can help the patient with the gait abnormality and to make a decision.
Please feel free to call the customer service department at 1-888-928-1774 for any information regarding the purchase of a walking cane. The website has many types and styles and sometimes it can be confusing on which cane is the best.