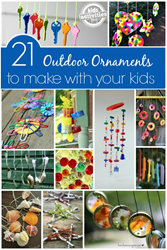 Make a sea shell wind chime with the kids today.
Dallas, Texas (PRWEB) August 30, 2014
Backyard crafts are fun. Amazing outdoor crafts and a Star Wars craft have been released on Kids Activities Blog. Let the kids have fun making things in the backyard this week.
All crafts are easy to make, and each one is crafted from every-day items that one can find around the house. The crafts will not cost a dime and best of all it will add some color and charm to a cozy corner of the backyard.
Homemade wind chimes, sun catchers, wind spinners and whirligigs look pretty reflecting the sun light and blowing in the breeze. Sea shell wind chimes are easy to make with sea shells from the last trip to the beach.
Let the kids turn a tin can into a patriotic wind sock or turn a water bottle into a wind spinner. The list is endless and the crafts are for kids of all ages and adults will have fun making them, too.
Another fun crafts is making Star Wards lightsabers. Simply use broken pool noodles and some tape. Any Star Wars loving child will have a blast with the homemade light saber that is safe and fun for the next playdate battle.
The pool noodle light sabers are easy and quick to make. Materials needed are pool noodles, duct tape, and black electrical tape. Follow the easy instructions to make a simple or double edge light saber.
For detailed instructions and to get additional fun ideas, check out Kids Activities Blog this week. Come get inspired to create fun things in the backyard together with the kids.
About Kids Activities Blog
Kids Activities Blog is a website created by two moms (who collectively have 9 children), Holly Homer and Rachel Miller. Their new book was published this spring by Page Street, 101 Kids Activities That Are the Bestest, Funnest Ever! Kids Activities Blog is an interactive website that publishes fun things to do with kids twice a day. It is an amazing resource for moms, dads, grandparents, caregivers and teachers to find kid-friendly activities that create memories and sneak learning into the fun.