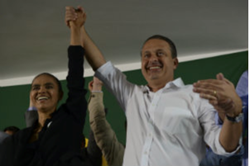 (PRWEB UK) 2 September 2014
Diogo Mendes, country analyst for Liquid Investments in Fortaleza, believes Silva's candidacy increases the chances of a second-round run-off, greatly increasing the likelihood of an opposition win, which would result in a seismic shift in Brazilian politics.
This year's presidential elections, in one of the world's largest democracies, are proving the most significant and dramatic for a generation. On August 20th, the PSB (Brazilian Socialist Party) nominated Marina Silva as the party's presidential candidate, occupying the post held by the late Eduardo Campos.
With impeccable working class credentials, Marina Silva is a former presidential candidate who came third in the 2010 national election with just under 20% of the vote. Diogo Mendes of Liquid Investments points out that international investors believe that Silva's inclusion will reduce the probability of Rousseff winning a second term; he said "perceived as highly interventionist, Rousseff is viewed as less business friendly than her rivals; a change at the top will be a major positive as far as the markets are concerned."
Diogo Mendes notes that Brazilian markets have picked up in recent months as Rousseff's poll ratings have slumped; the Brazilian stock market (BOVESPA) has already risen 22.8% over the last five months, making it one of the best performing of major markets worldwide. Silva's emergence in the campaign over the last week has resulted in the Real strengthening by $0.05 against the US Dollar, and according to Mr Mendes, Liquid Investments is conscious of a marked pickup in overseas investor interest for the company's agricultural projects.
Note to Editors:
Founded in 2006, Liquid Investments is a British owned and operated business headquartered in Knightsbridge, London and with an office in Fortaleza, Brazil. The company provides global investment solutions allowing institutional and private investors to accumulate wealth through safe and secure alternative investments in emerging markets.
Liquid's investment process is driven by (LIT), a refinement of Modern Portfolio Theory, itself used in one form or another by all fundamentally driven investors. LIT focuses on investing in tangible alternative assets providing a greater degree of security (such as asset secure farmland), with products that deliver a consistently higher level of returns (currently double digit annual yield) to a wide variety of end-user markets.
For further information:
Jayshree Badhan, Chief Marketing Officer
Jayshree.badhan(at)liquid-investments(dot)com
Call:
+44 20 7084 7421