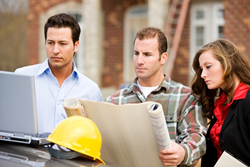 built-in solar panels or energy-efficient windows and doors, can be added to the blueprints.
Chicago, IL (PRWEB) August 30, 2014
When it comes to buying an existing home, it can be hard to get everything you want in a house. Especially since median home prices are 26.3% higher than 3 years ago, according to the "National Home Sales Snapshot" from DQnews.com. Instead of hunting for the right price, amenities and location,The Federal Savings Bank suggests, why not build the perfect property?
Existing houses can be more affordable, but there are other expenses that can increase the overall costs. Many older properties have structural, electrical and other issues that will be revealed by the home inspection. Unless you can negotiate with the seller so that he or she foots the bill for necessary repairs, one must factor these costs into their budget.
There may be some improvements that aren't necessary, but one may want to upgrade a few features of the home. These renovations can include replacing old cabinets and remodeling the kitchens and bathrooms. By the time these projects are complete, one may be near the price they pay for custom building a home.
Here are some reasons why to opt for a new home purchase instead:
Get a Hand in the Design Process
When working with home builders to lay out your new house, your ideas determine how the property will look. With the experts' knowledge to guide the final decisions based on structural and environmental considerations, one must choose everything from the number of rooms to the floor plan. As such, one may have the most unique house on your block.
Additionally, one does not have to worry about finding a home they love in the right community. When one has their home built, they can choose a lot in a neighborhood that fits their specifications. There are many new developments where one can live around other new properties, or one can find available space in an existing neighborhood.
You Can Go Green
Many new homes are built with energy-saving components. During the design stage, one can request green features be part of the structure. If they want built-in solar panels or energy-efficient windows and doors, these can be added to the blueprints. Not only are energy-saving amenities good for protecting the environment, one can also save on electricity, heating and cooling expenses.
There Are Fewer Immediate Repairs Costs
Existing homes can suffer from both normal wear and tear and outdated building standards. Over time, the previous owners put strain on a property, even if they regularly take care of it. Their use can turn into repairs once you take possession of the house. Also, some older properties have faulty wiring or plumbing or were built using processes that wouldn't be considered safe by contemporary building codes.
With a custom home, it is not likely that they'll have to perform any major repairs within the first few years of living in the house. Plus, if there are significant issues, the builders may offer a warranty, which typically covers repairs related to materials or workmanship.
Contact The Federal Savings Bank, a veteran owned bank, to learn about low cost mortgage options for your custom home.