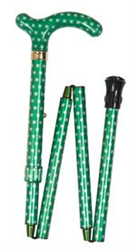 Petite Size Walking Canes
Orlando, Florida (PRWEB) August 31, 2014
Walking-Canes.Net has received the latest in Petite Size Walking Canes from Europe. These canes are useful for people that have smaller hands or not quite as big in size. The canes are quite functional but at the same time fashionable. When fashion and function combine together in the walking cane business the end result is one of the best items available on the market today.
Petite Size Walking Canes come in a wide variety of colors. Try one of the petite floral canes or maybe one of the animal skin designs like the Golden Leopard Petite Size. The smaller petite hands can have a choice that is totally inspirational when choosing colors and patterns. There are many choices to choose from.
The Petite Canes come in folding or adjustable canes. These two styles are always made of the lightweight aluminum material that is known for strength and durability. The petite canes can be adjusted to the height requirement that the patient needs. Aluminum made canes are some of the most desirable canes to own because of the different patterns that can adhere to the canes.
The folding petite size canes are a wonderful item to own because the user can fold it up and place it in the purse or place an extra one in the glove compartment. Petite canes are lightweight and beautiful. The adjustable sizes are listed on the product description of each cane.
Questions can be answered from our customer service team that is available by calling the toll free number at 1-888-928-1774.
Wrist straps are a great accessory to add to any petite size cane. Wrist Straps are available in many colors and are easy to attach to the walking cane by removing the tip and placing the strap on the shaft and then replace the tip.