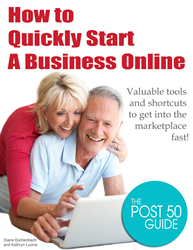 I firmly believe that you are never too old to start a business." Diane Eschenbach.
NY, NY (PRWEB) September 01, 2014
Diane Eschenbach's book "How to Quickly Start a Business Online" offers timesaving methods for getting start-ups created and running quickly and smoothly.
The over 50 population is a fast-growing labor group in the United States, and much of it is in the self-employment sector. Today's retirement is a lot different than it has been in the past: retirees are staying healthy and living longer, and they want to remain intellectually and physically engaged into their later years.
Alternatively, a growing number of people in their 50s and 60s are feeling pressured to continue to work to make enough money to carry them through retirement. A recent AARP study found that 76% of retirees work post-retirement because they need the income.
An online business is the perfect solution: retirement-aged entrepreneurs are able to build their time around a business focused on their talents, interests, and passions, all while gaining a source of income.
However, bringing a start-up into fruition can be difficult. Retirees can be intimated because of their age, and they tend to worry about the potential costs of getting their business idea off the ground.
According to a New York Times article titled "For the Unemployed Over 50, Fears of Never Working Again," of the 14.9 million unemployed, more than 2.2 million are 55 or older, and nearly half of them have been unemployed for six months or longer.
In "How to Quickly Start a Business Online," Eschenbach offers step-by-step instructions and timesaving tips for launching an online business. Free of technical jargon, the book offers numerous tools and resources for entrepreneurs age 50 and up.
"Despite the fact that the current retirement generation hasn't been on computers their whole lives as Millennials have, they still have a lot to give. They have experience, and they have quite a bit of knowledge from their years in the trenches. They know their strengths, and they have had the time to learn how to creatively market themselves and their skills. It makes them incredibly effective in an online start-up. I firmly believe that you are never too old to start a business." Diane Eschenbach.
In her book, Eschenbach goes over all the essential components to starting an online business, including playing to inherent strengths, information on how to formulate an idea and how to define the business and the product, the essentials of social media, how to assess progress along the business journey, and more.
"How to Quickly Start a Business Online" is available for purchase on Eschenbach's website, at http://www.dianeeschenbach.com/post-50-guide-e-book.html.
About Diane Eschenbach
Eschenbach is a marketing consultant and start-up specialist. Over the past 30 years, she has advised and consulted many entrepreneurs, helping them develop their marketing plans and company infrastructures. Diane Eschenbach possesses a bachelor's degree in Organizational Leadership with a minor in Psychology from Fordham University.
Diane Eschenbach has worked with a diverse industry list of clients during the last thirty years, including financial company giants such as Chemical Bank, MONY, AC&R, luxury brand trendsetters such as Bloomingdales, Arrow Shirt and Chanel, and in 2011, after working with the medical industry, co-authored a peer-reviewed article about Medical Marketing, a pioneering work about the marketing concept of traditional botanical medicine.