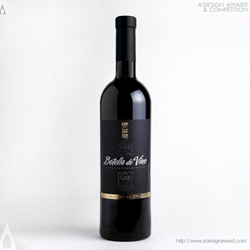 Como, Italy (PRWEB) August 31, 2014
A' Design Award and Competition is pleased to announce that the wine packaging and bottle design "Botella de Vino" by Valerii Sumilov won the notable Golden A' Design Award in Packaging Design Competition.
More on Botella de Vino
Valerii Sumilov, the creative mind behind the awarded work Botella de Vino said "The name of the product - Botella de Vino - was embodied on four different levels. First, it is the product itself, which is a "bottle of wine". Second, it is the name of the product, which bears the same meaning. Third, it is the stylized image of a wine bottle on the label. Fourth, it is the use of writings spelling "botella de vino" that form the bottle shape. Thanks to this visual aid, the only thing the buyer is looking at no matter how close or far they are from the product is a 'wine bottle'." Learn more about this design at http://www.adesignaward.com/design.php?ID=28000.
Design Team for Botella de Vino
Botella de Vino was realized by SHUMI LOVE DESIGN / IMPAKS printing house, Riga, Latvia / Satir Club wine company, Moscow, Russia.
The Golden A' Design Award
The Golden A' Design Award is a prestigious award given to top 3% percentile designs that has delivered an exemplary level of perfection in design. Entries to the A' Design Award & Competition are evaluated by a 50-person grand jury panel consisting of international experts, design professionals, press members and academics who peer review and anonymously vote entries on predetermined judging criteria. A' Design Award winners enjoy a series of PR, publicity and marketing services such as an invitation to join the World Design Consortium, inclusion in designer rankings in addition to the award trophy, annual of best designs and the design excellence certificates that are given during the black-tie award ceremony in Italy. Award winning works are exhibited in Italy.
About A' Design Award and Competition
A' Design Award and Competition aims to highlight the excellent qualifications of best designs, design concepts and design oriented products worldwide by highlighting the best design works from all countries. A' Design Award and Competition is organized and awarded annually and internationally in multiple categories to reach a wide, design-oriented audience. The ultimate aim of the A' Design Competition is to create a global awareness for good design, meanwhile pushing designers, product manufacturers and brands worldwide to come up with superior projects. To learn more about the A' Design Awards, design enthusiasts could visit http://www.whatisadesignaward.com.