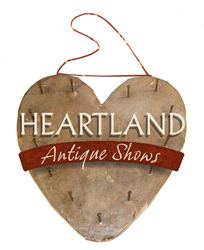 "I am so excited to be partnering with Antique Social to help spread the word about our shows", states Jennifer Sabin, manager of Heartland Antiques Shows.
(PRWEB) August 31, 2014
The Heartland Antiques Show is excited to announce their affiliation with Antique Social, a new social media digital advertising agency that works exclusively with antique and art dealers and show promoters. The Heartland Antique Show has been around for a quarter of a century but has yet to take advantage of new digital advertising methods like Facebook and Instagram.
Jennifer Sabin, owner/manager of the Heartland Antiques Show, is excited for the upcoming show, which will happen on November 15 in Richmond, IN, and is especially thrilled to be reaching a new market and younger audience with the help of Antique Social.
Sabin knows that print advertisements work in the trade papers. She states, "I have good customer response from my ads in the antiques trade papers such as Maine Antiques Digest", but goes on to say that advertising in the general public papers is a little more challenging. "I have very little response to this shotgun type of advertising." Finally, Sabin has not been able to reach audiences digitally. She has turned to Antique Social for help. "I am so excited to be partnering with Antique Social to help spread the word about our shows," states Jennifer. The digital advertising agency targets a specific audience by reaching out to those interested in things such as art and antiques, "like" Country Living or Architectural Digest or has expressed interest in other topics relevant to antiques shows through their social media behaviors.
The Heartland Antiques Shows started 25 years ago. This year's theme is "All Things Country"! The Heartland Antiques Show brings to the area exhibitors from across the nation—Vermont to Florida, Colorado to Virginia. The 85 dealers emphasize mid-19th century antiques, textiles, folk art, pottery, and all manners of accessories. The show will be held on Saturday, November 15, in Richmond, Indiana at the Wayne County Fairgrounds.
Customers will find a variety of textiles including quilts, coverlets, and hooked rugs. One of our dealers, Cindy Adams from Colorado, will feature antique and vintage quilts. Customers will also find many pieces of painted furniture—pie safes, dry sinks, blanket chests, and more. These pieces are both functional and decorative. Be sure to check out the booth of Hannah Humes from Ohio. Hannah specializes in the country look with her collection of painted furniture and quilts. Another specialty dealer is Kit Carter from Kentucky. Kit is an expert in the field of vintage and antique Christmas decorations as well as in vintage bears. Tim Chambers of Missouri Plain Folk will be exhibiting a collection of painted game boards. New to the show this year is Robbens' Silversmith. In addition to their offerings of jewelry, silverware, and silver accessory pieces, Robbens also provide a silver restoration service.
This year's show will take place on November 15 at the Wayne County Fairgrounds in Richmond, IN. The show opens at 9:00 AM and closes at 4:00 PM. Come join the fun with over 85 exhibitors and something for everyone to enjoy. After Sabin's show in November she will be gearing up for Heartland @ Howard County Show which will take place in March of 2015 in Howard County, Maryland.