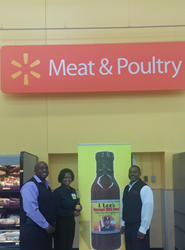 Today is a great day for J. Lee's Gourmet BBQ Sauce, Inc.
Gulfport, MS (PRWEB) August 31, 2014
The barbecue sauce with the taste that "all families love" will now be carried by the store that helps families "save money and live better". Wal-Mart Stores, Inc. will now carry J. Lee's Gourmet BBQ Sauce in 11 of its Southern Mississippi locations. The Gulfport, MS store has already received its initial shipment. The other 10 Wal-Marts located in Biloxi, D'Iberville, Hattiesburg, Lucedale, Ocean Springs, Pascagoula, Pass Christian, Picayune, Waveland, and Wiggins, MS will receive their shipments over the next several days. Gulfport's Store Manager, Tish Green, is wasting little time in introducing her customers to the unique taste of J. Lee's. She has already scheduled The Sauce Team (TST) to come out and conduct an in-store demonstration of J. Lee's Gourmet BBQ Sauce this Sunday, August 31st.
"Today is a great day for J. Lee's Gourmet BBQ Sauce Inc.", stated Helen J. Lee, company C.E.O. And this day has come rapidly. J. Lee's Gourmet BBQ Sauce Inc. has only been in operation a little over one year, and now the company is doing business with a corporation that has over 245 million customers and members, nearly 11,000 stores under 71 banners in 27 countries, and employs 2.2 million associates worldwide (information provided by corporate.walmart.com). "Partnering with our local Wal-Mart Stores was a goal from day one," stated Ashante Vereen, J. Lee's Sales and Marketing Director. Vereen went on to say "…now that we have been afforded this opportunity, I know it's only the beginning."
James Lee, founder of the J. Lee's Gourmet BBQ Sauce recipe, had this to say about the company's new venture: "This company is founded on faith, hard work, and dedication; we had no doubt that we would be doing business with the largest companies in the world in record time. J. Lee's would like to thank all of the Southern Mississippi Wal-Mart store managers for their support and assistance. We would like to give a special thank you to the Gulfport Wal-Mart's Store Manager, Tish Green, for going the extra mile in ensuring our spot on the Wal-Mart shelves. We are very pleased to be making our first presentation in her store and are determined to make it a success and our business relationship with Wal-Mart Stores, Inc. a lasting one." For those not located near the previously mentioned cities, please visit the company's website for a complete list of stores and to place your online orders. The website is http://www.jleessauce.com.