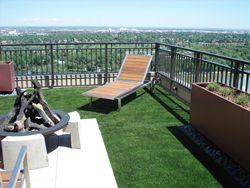 EasyTurf gives companies the ability to enhance their appeal by providing an ultra-realistic, innovative, low-weight and cost-saving landscape
Washington, D.C. (PRWEB) September 12, 2014
EasyTurf is scheduled to debut at the World Energy Engineering Congress (WEEC), in Washington, D.C., Oct. 1-3, showcasing their green-roof-surfacing-system for architects, city planners and engineers.
The 2014 WEEC featured Keynote Speaker will be President Bill Clinton. The green roof industry continues to grow aggressively, and since 2009 is up about 115%, according to a WN article. This growth can be partially attributed to companies and organizations like Green Roofs for Healthy Cities (GRHC), Cities Alive, EasyTurf and the more than 425 accredited Green Roof Professionals (GRPs) in the market.
"EasyTurf gives companies the ability to enhance their appeal by providing an ultra-realistic, innovative, low-weight and cost-saving landscape," said David Hartman, EasyTurf President. "EasyTurf's trusted position as the industry leader in synthetic grass landscape systems and dedication to an exceptional customer experience continue to attract commercial businesses, military, landscape planners, designers and architects searching for aesthetic improvements."
The government is also taking a noticeable interest in this particular area, and this year, WEEC will include a comprehensive series of workshops for federal energy managers.
"Government investment in green roofs for their storm water, air quality, green space and city cooling benefits largely fuels the growth of our industry," said Steven W. Peck, founder and president of Green Roofs for Healthy Cities (GRHC).
For more information about WEEC, visit http://www.energycongress.com, and for the latest about the industry leading EasyTurf, visit http://www.easyturf.com