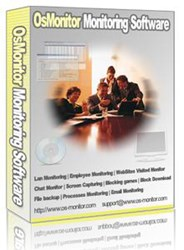 (PRWEB) September 02, 2014
Recently, Os-Monitor.com, an innovative company that provides many kinds of software programs, has announced its new collection of employee internet monitoring products (http://www.os-monitor.com). Furthermore, the professional supplier is now providing big discounts, up to 10% off, on these useful items.
True enough, the company is now selling more than 20 different kinds of high end monitoring programs on its website. All of them are very useful for companies of all sizes. With its high end programs, the employers can view and record all the employees' PC activities such as their online conversation, the websites they visited, the software they ran, the documents they processed, the emails they sent, the business information in their computers.
"We are now trying to create more high end products (http://www.os-monitor.com/download.htm) for the global customers. They are all practical and user-friendly. In addition, a lot of our items are now available at discounted rates. All clients can enjoy great after-sale services. If you are thinking of buying cheap employee internet monitoring products, just visit our website and place an order," the company's sales manager says.
Each of Os-Monitor.com's newly unveiled items is guaranteed to be good. The company is extremely popular for its practical products, great services and reasonable prices.
About Os-Monitor.com
Os-monitor.com is a website platform owned by Wangya Computer Co., Ltd, which was established in the year 2006. The company specializes in developing different kinds of useful monitoring software programs. It has its own development offices based in Asia. The company's practical employee monitoring software products are very popular in the market. For more detailed information about its products and services, readers can visit its one stop website.