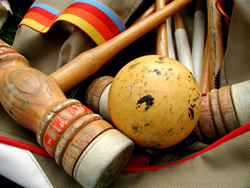 Coastal South Carolina Fall Social Club Events
Hilton Head, South Carolina (PRWEB) September 03, 2014
Remember as a child growing up, the fascination of picking a favorite color ball to challenge siblings to croquet at family picnics? If so, pick up a mallet and join in on one of the fastest growing past times for those enjoying quality retirement living. Croquet has taken on a whole new dimension with Baby Boomers who are bringing the sport to another level. This Fall, some of the coolest and trendy events are happening at the croquet clubs in the Lowcountry of South Carolina. Croquet tournaments are heating up and for folks who reside in the region of these coastal South Carolina social clubs (Palmetto Bluff, Dataw Island or Spring Island), mark your calendar for the upcoming CCC (Coastal Croquet Clubs) tournaments that are being held this season.
The first event is being held September 25-26 at the 2014 Fall Golf Croquet Invitational at Dataw and Sun City. There are 3 croquet events in October; October 3 is the BJAAC Waterfest Doubles Golf Croquet in Sun City, October 12 is the Columbus Day Party in Palmetto Bluff and on October 22-25, there is the 2014 CCC Fall Invitational. November brings yet 2 more events; November 6-8 is the CCC Club Championship Golf Croquet and on November 8 is the Walker Cup in Spring Island. For more information about these tournaments visit the website of the Coastal Croquet Clubs.
Croquet is certainly not a new sport. The history of croquet dates back to the mid 19th century when it was allegedly born in the British Isles. The origins of the modern game date back to 1852 when a game called "crooky" was introduced to England from Ireland. In 1977, the United States Croquet Association was organized by Jack Osborn who spent countless hours organizing the rules and establishing croquet clubs throughout the east coast. Today it is estimated that over 100,000 croquet sets are sold annually and that the interest has soared in recent years due to the highly social aspects of the game.
Croquet appeals to individuals of all ages and is a sport where age is not a factor. As a matter of fact, this is a sport where folks get better with age and experience! Because it is a group activity, it is a highly social game and today's tournament encourage all skill levels to participate. Not only is croquet FUN, but it also is a great resource for staying "mentally alert" and requires a fair amount of walking and stamina to stay the course. Croquet also attracts both men and women who compete on a equal level without separate divisions.
Folks searching for where to retire in South Carolina, might want to consider one of the following communities that offer coastal South Carolina croquet clubs in the Lowcountry.
Palmetto Bluff in Bluffton offers the ultimate in Lowcountry living. Take a stroll through this gated "oak-tree lined" community and feel the appeal of travelling back in time with all the conveniences of modern day living. Palmetto Bluff offers an 18 Hole Championship Golf Course designed by Jack Nicklaus, a 5,000 square foot May River Golf Clubhouse, The Inn & Spa at Palmetto Bluff with heated Pool, the River House Fitness Center and Restaurant plus Longfield Stables which is a full service equestrian center. If boating on the May River is a preference, Palmetto Bluff also features Wilson Landing with 80 dry boat slips and boat rentals, as well as the Wilson Lawn & Racquet Club to help you prepare for the upcoming croquet tournaments. The amenities offered here are "over the top".
Dataw Island, on the Sea Islands of Beaufort, is a 870 acre community situated on its own barrier island. Located between Savannah and Charleston, this seaside gated golf community offers all the luxuries of "resort style" living plus TWO Championship Croquet Courts! Folks will also find 2 Championship Golf Courses, a 25,000 square foot newly renovated Golf Clubhouse offering both formal and casual dining, a Fitness Center, Indoor and Outdoor Pools, a 1,600 square foot Tennis Center and a full service Deepwater Marina. This highly sought after South Carolina coastal community has outstanding social clubs and offers a great place to retire in the ultimate of style.
Spring Island in Okatie is situated upstream from the Port Royal Sound and Colleton River and features 3,000 acres of development on a private island. This beautiful nature preserve features an 18 Hole Championship Golf designed by Arnold Palmer and Ed Seay, a Golf Clubhouse and River Clubhouse (both with dining), a 13,000 square foot Sports Complex, Indoor and Outdoor Pools, a Fitness Center, 6 Har-Tru Tennis Courts, a full service Equestrian Center, a Nature Center and a Community Boat Dock. Residents here are actively involved with the Coastal Croquet Clubs and promote croquet tournaments in their community. When searching for a place to "call home", Spring Island definitely fits the bill.
Folks who love the sport of croquet and are looking for where to retire in South Carolina at neighborhoods with croquet, here's a couple coastal South Carolina communites above to take a look at.
About Real Estate Scorecard:
Real Estate Scorecard writes unbiased real estate reviews providing in-depth information about popular gated communities in Florida, Georgia, North Carolina, South Carolina and Tennessee, all in an effort to help people discover where to retire in the Southeast.
Website: http://realestatescorecard.com
photo credit: VancityAllie via photopin cc