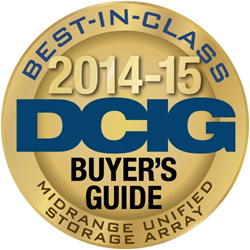 "We know organizations are looking to strike a balance between pure hardware horsepower and greater management capabilities," said Ken Clipperton, DCIG Analyst and co-author.
Austin, Texas (PRWEB) September 02, 2014
Almost as certain as the continued explosion of data where reports that 90 percent of data created in the world today has been created in the last two years alone, IT administrators are faced with an explosion of storage options to meet their growing storage requirements. This is clear in the growing "unified storage" category, where the choice of NAS or SAN can now be handled in a single solution, managing both file and block storage data. As the demand for storage continues to grow, users are turning more to midrange unified storage arrays that combine capacity, versatility and manageability in a single package.
There have been significant changes since last year's Buyer's Guide for Midrange Unified Storage Arrays. While the majority of arrays topped out at 720 GB in last year's Buyer's Guide, the vast majority of drives in this year's Buyer's Guide support at least 1.8 PB and many can scale upwards to 4 PB. Additionally, the majority of midrange unified arrays in last year's Buyer's Guide supported a total cache of 96GB or less, and only a quarter of arrays supported caches greater than 1 TB. This year, the majority of arrays supported total cache of 600 GB and 3 TB respectively. Both advancements point to an increased benefit for users on performance and greater storage capacity for less money, with the added benefit of a smaller storage footprint in the data center.
"We know organizations are looking to strike a balance between pure hardware horsepower and greater management capabilities," said Ken Clipperton, DCIG Analyst and co-author of the DCIG 2014-15 Midrange Unified Storage Array Buyer's Guide. "Since midrange unified storage solutions serve as a 'jack of all trades' that combine both power and manageability in a single package, we placed more emphasis on solutions that combine the ability to handle the explosion of data with ease of management. For that reason, data efficiency technologies that enable a midrange unified array to store more data in less space and features that enable an array to be managed from within familiar management interfaces, including virtual server, became a premium. We also recognized the importance of monitoring and proactively resolving issues as they occur, quickly and efficiently."
For the DCIG 2014-15 Midrange Unified Storage Array Buyer's Guide, DCIG, LLC evaluated 40 offerings from 14 companies. After an initial survey containing more than 130 questions was completed, product capabilities were assessed based on a combination of data provided by the vendor, prior DCIG research, the analyst's own knowledge of the product and publicly available information. Products were then evaluated on more than 200 features. After scores were compiled, products were ranked Best-in-Class, Recommended, Excellent, Good, or Basic across functionality and capability relative to the other products included in the Buyer's Guide.
The intent for this Buyer's Guide, as with all DCIG Buyer's Guides, is to provide an "at-a-glance" comparison from which end users can select the most appropriate solution for their needs. This Buyer's Guide also provides perspective on how solutions from less well known midrange unified storage arrays compare against established and better known brands.
The DCIG 2014-15 Midrange Unified Storage Array Buyer's Guide Top 10 solutions include (in alphabetical order): Dell Compellent SAN + FS8600; EMC VNX8000; Fujitsu Limited ETERNUS DX100 S3, DX200 S3, DX500 S3, DX600 S3; IBM Storwize V7000 Unified; NetApp FAS8020, FAS8040; Oracle ZFS Storage Appliance.
NetApp FAS8040 and NetApp FAS8020 achieved Excellent or Recommended across all scoring categories. In particular, these two arrays were distinguished through comprehensive management and software features. Data services provided by NetApp's mature and full-featured Data ONTAP storage operating system helped both arrays stand out. Both arrays achieved high marks against competitive solutions listed in the Buyer's Guide in the following ways:

Support for NAS Virtualization and Virtual Domains: Both arrays have the ability to appear as multiple NAS devices and to be managed as multiple virtual private arrays.
Support for both compression and deduplication: By implementing both technologies, the NetApp arrays achieve higher overall data efficiency and the ability to store more data in the least space.
Use of flash memory for both read and write caching: These models provide low-latency flash caches up to 6TB and 12TB respectively.
Proactive remediation: These models were among the few that offered both remote monitoring and proactive remediation. Proactive remediation minimizes the number and duration of service interruptions by reducing troubleshooting time and expertise required of IT staff.
The DCIG 2014-15 Midrange Unified Storage Array Buyer's Guide achieves the following objectives:
Provides an objective, third party evaluation of each midrange unified storage array that evaluates and scores their features from an end user's perspective
Scores and ranks features of each midrange unified storage array based on criteria that matter most to end users
Provides a standardized data sheet for each midrange unified storage array so users may do quick side-by-side comparisons of products
Provides insight into the management, data efficiency, VMware integration, hardware and technical support features which organizations may look for in a unified storage solution
Gives any organization a solid foundation for getting competitive bids from different providers that are based on "apples-to-apples" comparisons
Clipperton added, "We fully anticipate midrange unified arrays to fill a wide range of needs within IT infrastructures. They provide the right balance of strong feature set and powerful hardware. With that said, we expect the category to evolve, so look for advances in deduplication, flash-based caching and public cloud integration, especially as organizations continue to look for cost-effective ways to handle the ever increasing volume of data. As with all our Guides, we know this Guide will be an important resource for users looking for the right midrange unified storage array to handle their specific needs."
Disclosure and Methodology
DCIG identified 14 companies that provide midrange unified storage arrays. Each midrange unified storage array had to meet the following criteria:
Be available as an appliance, on a single SKU, and includes its own hardware and software
Support the presentation of storage as a single file system in a global namespace
Support Ethernet connectivity
Support both the CIFS/SMB and NFS NAS protocols
Support one or more SAN protocols (iSCSI, Fibre Channel, FCoE)
Primarily function using storage local to the device and/or its direct peers (more than a cloud gateway)
Support scaling to at least two controllers
Support scaling to a minimum of 60 TBs of raw capacity
Ship prior to June 15, 2014
Sufficient information for DCIG to make meaningful decisions
No vendors, whether clients or not, were afforded preferential treatment in the Buyer's Guide. All research was based upon information provided directly by vendors, research and analysis by DCIG and other publicly available information.
It is worth noting that each Buyer's Guide is not intended to be a substitute for internal testing. The information on each data sheet about each product's functionality represents the opinion of DCIG. DCIG encourages any organization that is considering the purchase of any solution included in a Buyer's Guide to do its own in-house testing and to validate the functionality of each feature.
As a supplement to this Buyer's Guide, all of the data collected for this Buyer's Guide and all DCIG Buyer's Guides to date are available through DCIG's online data visualization portal. The portal provides more detail on what is available and can be accessed at the following http://www.dcig.com/interactive-buyers-guide.
Availability
The DCIG 2014-15 Midrange Unified Storage Array Buyer's Guide is available immediately and may be downloaded for no charge with registration via this link.
Resources:
DCIG Blog: http://www.dcig.com
About DCIG
DCIG is a group of analysts with IT industry expertise who provide informed, insightful, third party analysis and commentary on IT hardware, software and services.
DCIG independently develops and licenses access to DCIG Buyer's Guides. DCIG Buyer's Guides provide actionable intelligence through comprehensive, in-depth analysis of data center infrastructure product features. DCIG also develops sponsored content in the form of blog entries, customer validations, product reviews, special reports and executive, standard and full-length white papers.
DCIG's target audiences include C-level executives, IT managers, systems and storage engineers and architects, press/media, magazine and website editors, bloggers, financial and technical analysts, and cloud service providers.