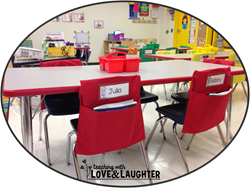 Students use their Seat Sack from the minute they enter the classroom in the morning, right up until they pack up to go home~Lori Rosenburg
Naples, FL (PRWEB) September 01, 2014
Interactive notebooks are a great way for students to organize what they are learning and Seat Sacks are a great way to store an INS. An interactive notebook is used to enable students to be creative, independent thinkers and writers. Interactive notebooks are used for class notes as well as for other activities where the student will be asked to express his/her own ideas and process the information presented in class. Students respond in the interactive notebooks via graphic or written notes. Interactive Notebooks can be used at any grade level or subject area.
Lori Rosenburg, host of Teaching with Love and Laughter, began using Interactive Notebooks with her first grade students this year. She is pleased with how engaged students have become in her classroom and how the interest level of learning has increased in her classroom through the use of the INS books. When Lori first began using the Interactive Notebook System, it was a challenge to find a place to keep the notebooks so that they would be easily attainable to students throughout the school day. With tables instead of desks, Lori's only space for keeping the notebooks was in their mailboxes. However, this was distracting as students had to continually get up from their table to get their interactive notebooks. The solution to this issue came from The Original Seat Sack Company.
"Students use their Seat Sack from the minute they enter the classroom in the morning, right up until they pack up to go home," stated Lori Rosenburg. When they first arrive, they put their take home folder in their seat sack instead of collecting them every morning and passing them out again at the end of the day which used to waste valuable teaching time. Students also keep their interactive notebooks and reading workbooks in the Seat Sack. According to Ms. Rosenburg, "When it is time for students to work in their interactive notebook, all students have to do is reach behind and grab their book." Seat Sacks are an efficient way to store and make available learning materials for students. In addition to their use, Seat Sacks are a colorful way to brighten a classroom.
Lori Rosenburg has been teaching with love and laughter for over 19 years. She has taught every grade from PreK to fifth grade. She shares her teaching strategies through her blog site, Teaching with Love and Laughter. For more information on interactive notebooks, read Ms. Rosenburg's 9 Helpful Hints to Successful Interactive Notebooking. To learn more about Seat Sack products, visit the company website at http://www.seatsack.com or join them on Facebook for educational insights, product information and giveaways.