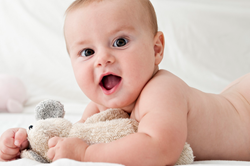 Helping newborns distinguish daylight hours from evening hours, The BBB Method allows them to fall into the natural circadian rhythm their parents are used to. -Dr. Marta Katalenas
Austin, TX (PRWEB) September 04, 2014
Austin pediatrician, Dr. Marta Katalenas, has found a simple solution to help parents get their babies to sleep through the night by teaching parents "The Bed-Breast-Bed Method". The BBB Method is a routine that helps newborn babies distinguish daylight hours from evening hours, allowing them to fall into the natural circadian rhythm that will lead to sleeping through the night.
In a recent article, Dr. Katalenas of the Pediatric Center of Round Rock explained that babies do not have an inherent sleep cycle. "When the baby is born, the day and night cycle has not been established yet," said Dr. Katalenas, "Parents must create that cycle by strictly adhering to a routine that exposes their newborn to both daylight and darkness."
By preparing the baby for sleep with a warm sponge bath, the parent is able to relax their newborn before an evening feeding. "Between 8pm and 9 pm parents can give their newborn baby a sponge bath (with or without soap) in warm water, gently sponging water over the newborn baby's hair," Dr. Katalenas said, "The sponge bath relaxes the baby, and sends a signal to the baby that bedtime is approaching."
Dr. Katalenas also recommended feeding the newborn immediately after a sponge bath. "Breastfeeding or bottle feeding must be done immediately following the sponge bath, and take place in a room with artificial light, between 8pm and 9pm," she instructed.
In the last step of the BBB Method, Dr. Katalenas explains that although newborns will wake up in the middle of the night, they must be fed in a room with little or no light. "Newborns feed every three to four hours, which means that you will have to breastfeed or bottle feed your baby in the dark sometimes," Dr. Katalenas explained, "If the room is too dark, try using a nightlight to see what you are doing. Keep in mind that the same rule of letting the baby fall asleep on his or her own still applies for this step."
She also suggested that parents not let their baby fall asleep in their arms or while swaddled, otherwise the baby would have a difficult time transitioning.
The full article written by Dr. Marta Katalenas can be read online by visiting http://www.pediatriccenterofroundrock.com.
About Dr. Katalenas
Dr. Marta Katalenas is a board certified pediatrician and owner of the Pediatric Center of Round Rock. She is a public speaker and author of the book "The Step Up Diet: From Scratch… The Quality, Quantity, and Timing Solution to Childhood Obesity," a guide to healthy cooking and eating for busy families.