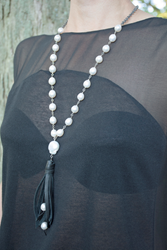 Combining conventional pieces in unconventional ways, to create signature style.
Boston,MA (PRWEB) September 30, 2014
Looking to bring her artisan-created goods to the world, Jenne Rayburn's Handcrafted Jewelry is now available on Etsy Wholesale. Youthful, edgy, and contemporary describe Rayburn's jewelry collections. "Architecture and Nature are my primary sources of inspiration, " said Rayburn from her sunny studio outside of Boston, MA. "Whether I'm driving up the New England coast or strolling through a busy city, the creative combinations of colors, textures, shapes, and symbols around us are endless."
Rayburn has a distinctive eye for style and design, and creates lines of luxury jewelry that riff on urban elements of street cool, Boho-Chic and Rock-n-Roll, and mixes it up with catwalk glamour. The result is unique jewelry at the cutting edge of cool, while also being the last word in sophisticated glamour. The Ossis Collection of sterling silver, 18k gold and gemstone jewelry mixes street style with unique elements, to create a truly original, edgy look.
Combining beautifully delicate antiques and bold vintage elements, Rayburn gives her jewelry pieces an edge with careful styling and use of high-quality materials. Unpretentious designs are transformed into trendsetting pieces, sacrificing nothing in terms of luxury or glamour. Antiqued sterling silver and 18k matte gold chains, combined with sentimental Victorian motifs and pearls, are styled into statement bracelets, earrings and necklaces have never looked so cool or wearable.
Women and jewelry are inseparable. However, Rayburn agrees that choosing a signature jewelry style can be a challenge. The pieces you wear every day should reflect your unique personality, fit with your wardrobe, and balance trendy and timeless.
Many people shy away from statement jewelry pieces, worried about looking too edgy or feeling overwhelmed. However, Rayburn emphasizes that edgy does not necessarily translate into hard, tough or big. "Edge is all about combining jewelry, clothing and footwear in unconventional and unexpected ways," says Rayburn. "You can create edge with unusual outfit juxtapositions and bold focal points." More specifically, edge is not incompatible with soft colors, tailored polish or flowing organic sensibilities. Edge can be about irregular or unusual pieces that have an edgy effect on their own. Combining conventional pieces in unconventional ways, especially when the colors are interesting, creates edge. To construct a unique signature look or style, how you wear an item is what makes the difference, not necessarily the style of the piece itself.
Antique and modern at the same time, Rayburn's elegant hardware statement jewelry has a contemporary artisanal appeal. Jenne Rayburn jewelry, including breathtaking necklaces to extraordinary gemstone rings, bracelets and earrings, will be available on Etsy Wholesale where customers can view exclusive jewelry designs.
Visit Jenne Rayburn's collections https://www.etsy.com/shop/jennerayburn
Visit Jenne Rayburn on Facebook http://www.facebook.com/Jenne.Rayburn
About: Jenne Rayburn is a Boston-based jewelry/textile artist who also studied interior design and architecture, and her work reflects the convergence of mythology, identity and ornament. Jenne Rayburn Jewelry is carried in local galleries and online. Please visit http://www.jennerayburn.com for Jenne Rayburn's online flagship store. For wholesale information, please visit jennerayburn.com/wholesale.com
###