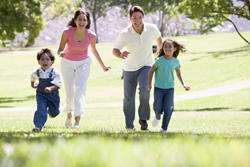 Help your child put down the video game controller, get outside in the sunlight, and on the right track. -Dr. Marta Katalenas
Austin, TX (PRWEB) September 01, 2014
As part of a 12-month resolution challenge designed to help families lose weight and stay healthy, Dr. Marta Katalenas, an Austin TX pediatrician, recommends visiting local parks in September as a way to teach children about the issue of childhood obesity and how to stay fit by taking advantage of the local park system in your city. By visiting a different park every weekend, parents and children will discover the unique qualities and variety of parks offered in their city and create a new healthy habit their children will enjoy.
According to the Centers for Disease Control and Prevention, the number of children and adolescents suffering from obesity has more than doubled in the past 30 years. These numbers reflect a lack of good nutritional food choices and physical activity.
In a recent article, Dr. Katalenas provides parents a list of Austin area parks that offer a variety of activities that engage children. "Don't let childhood obesity become a health issue that plagues your family," she said, "Resolve to combat this disease with physical activity by visiting a different park in the Austin area every weekend in September."
The Round Rock Dog Depot is listed among the pediatrician's recommended parks. "Running and jumping, fetching and catching frisbees with the family pet are activities your child will enjoy for a few fun-filled hours," said Dr. Katalenas, "Help your child put down the video game controller, get outside in the sunlight, and on the right track with daily fitness."
Dr. Katalenas also recommended swimming in the Barton Springs Pool at Zilker Metropolitan Park, fishing at Meadow Lake Park, and playing basketball on the courts of Northwest Greenway at Mueller Lake Park.
Dr. Katalenas's exercise and healthy living advice that she's been doling out to parents for years can be found in her book "The Step Up Diet: Quality, Quantity, and Timing". Case studies detailed in the book describe how physical activity and visits to parks improved the health of children that were once unhealthy and unwilling to exercise.
Families can adopt monthly resolutions created by Dr. Katalenas on her website at http://www.DrKatalenas.com that will help them make easy changes to become healthier and stay on track throughout the year.
About Dr. Katalenas
Dr. Marta Katalenas is a board certified pediatrician and owner of the Pediatric Center of Round Rock. She is a public speaker and author of the book "The Step Up Diet: From Scratch… The Quality, Quantity, and Timing Solution to Childhood Obesity," a guide to healthy cooking and eating for busy families.