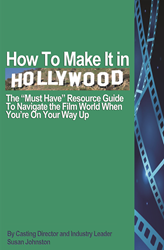 "What you seek is seeking you." — Rumi
Hollywood, CA (PRWEB) September 02, 2014
How to Make It In Hollywood- The Must Have Resource Guide To Navigate the Film World When You're On Your Way Up
For any talent, this is the go-to source for advice, winning strategies, marketing techniques, and invaluable insights on How To Make It In Hollywood. This guide includes the most up-to-date tools to navigate the film world when you're on your way up.
Aspiring and established professionals will find this resource guide chock full of resources and advice about auditioning, networking, connections, promoting, getting gigs.
Written by CEO Susan Johnston of Award Winning Select Services Films Inc, a certified DBE which has a casting division http://www.SusanJohnstonCasting.com and a critically acclaimed festival division http://www.NewMediaFilmFestival.com. Susan Johnston has over thirty years of experience and put this resource guide together to give tools people need on How to Make It In Hollywood - How to Navigate the Film World When You're On Your Way Up.
Includes information on:
Networking
Resources
Employment Info
Studio Job Hotlines
Market Research Groups
Temp Agencies
Employment Website for Entertainment Industry
TV Show Audiences and Odd Talent Jobs
Agencies Affiliated with Specific Studios
Make Money on your Clutter
Living in the area you want to live
Getting on the lists to get in events
Tickets to live show tapings
Open Mics
True Stories from the trenches
Navigating Hollywood
Auditing classes
Theatres Casting Directors go to
Entertainment Organizations
Writer/Producer/Director Resources
Writing Fellowships/Mentorship Programs/Filmmaker Labs
Musician Resources
Industry Resources & much more!
More information can be found at http://howtomakeitinhollywood.eventbrite.com