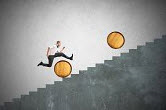 Doing what you like is freedom. Liking what you do is happiness.
Charlotte, NC (PRWEB) August 31, 2014
OYea 2 Enterprises' bid for lucrative opportunity in a one-of-a-kind internet business environment continues. It is said there are few if any things of value that come without a meaningful struggle. Applied to the long-awaited review of the AWAI final project, its substance echoes the sage words of the saying. Transformation is struggle and this is where the learning curve becomes a slippery slope.
"The review reminded me of a grade school report card. As a primary school-aged child, teachers often wrote notes to my parents on the report card: 'Your son has great potential, and yet, he lacks focus and attention to detail.' The recent review carries the same message. I am reborn and refuse to relive my past. The information needed to resolve this 'niggle' is nonetheless a stepping stone to bigger things." Gerald Woodson, Director of OYea 2 Enterprises, LLC.
There is no mistake. Understanding and absolute freedom are the goals. How we get there will define us and reshape our perspective. "Caged birds accept each other, but flight is what they long for." –Tennessee Williams. In fact, "freedom is nothing but a chance to be better." –Albert Camus.
Opinions can drown out the inner voice, but the mind may summon the courage and faith to believe everything is a possibility waiting to be realized. We will keep you informed of our victory over this small difficulty.
Drop in and have a look around. More valuable info can be found at http://oyea2.com .
About OYEA 2 Enterprises, LLC:
The mission of Oyea 2 Enterprises, LLC is to provide quality information on the pursuit of health, wealth, and happiness for raising self-awareness worldwide.
The vision is to express the mission through the distribution of information products (literature, music, and video) and related services.
Oyea 2 Enterprises, LLC began its service to the Charlotte, NC community in 1984 as Oh Yea Music (BMI), a recording studio for solo musicians. Through the years, the mission has mushroomed to include composition, audio post–production, and video production.
Since 1995, Woodson has engaged in self-disciplinary study of customer service and technical support. In the growing internet marketing space, transformations continue and the demands for ongoing education push the envelope more each year.
For the last 21 months, Oh Yeah Music has been focused on expanding its marketing efforts online. Consolidating its music, video, research, and writing expertise into one business entity, Oyea 2 Enterprises, LLC is the unified product engine.
Contact info: Gerald Woodson Oyea 2 Enterprises, LLC 888.887.3281 http://oyea2.com/