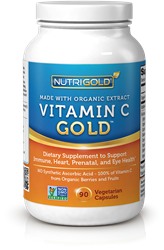 NutriGold's whole-food Vitamin C Gold is sourced from foods that are naturally rich in Vitamin C, including berries, fruits, and vegetables.
Orem, UT (PRWEB) August 31, 2014
NutriGold announces that its whole-food Vitamin C supplement, sourced from organic fruits and berries, has been approved by ConsumerLab (requires subscription) in all aspects tested, including purity and label claims.
Most commercially available Vitamin C supplements feature Ascorbic Acid from genetically modified and chemically produced corn glucose through a an entirely synthetic process. The process involves the use of a genetically modified microbe species that oxidises sorbose into 2-ketogluconic acid (2-KGA); this then undergoes the ring-closing lactonization via dehydration producing ascorbic acid. The problem with using a GM corn source to synthesize Ascorbic Acid notwithstanding, these isolated, fractionated Vitamin C supplements suffer from issues of poor bioavailability because they lack the co-factors needed for the optimal absorption and utilization of Vitamin C by the body.
Whole-food Vitamin C, like the one in NutriGold's Vitamin C GOLD, is sourced from foods that are naturally rich in Vitamin C including berries (e.g. Amla, Camu Camu, acerola), citrus fruits (e.g. Orange), and green vegetables (e.g. Asparagus, Avocado), free of genetically modified organisms, and features the full-spectrum of beneficial enzymes and co-factors that work synergistically to confer therapeutic benefits not afforded by synthetic, vitamin C isolates.
NutriGold is committed to manufacturing vitamins, herbs and supplements with non-GMO, organic, whole-food, and clinically-proven ingredients. As the leader in industry transparency and consumer education, NutriGold invites consumers to learn more about Vitamin C on its website.
FREE SAMPLES
For product samples of NutriGold supplements, please visit http://www.nutrigold.com/free-samples, click "Like" on Facebook, or "Follow" the company on Google Plus.
ABOUT NUTRIGOLD
NutriGold is a science-based nutraceutical company committed to identifying, developing, and offering cutting-edge nutraceutical products. With a portfolio of best-in-class products at reasonable prices backed by unmatched service, NutriGold is not just raising the bar on quality, but is helping define the standards for the rest of the industry to follow and this is reflected in its:
+ Use of non-GMO, organic, whole-food, and clinically-proven ingredients
+ Uncompromising efforts to manufacture products without artificial ingredients, Stearates, Laurates, Sulfates, and Dioxides
+ Voluntary, extensive third party testing of all raw materials and finished products for identity, purity, potency, and safety
+ Resolute efforts to ensure that all products are free of contaminants, adulterants, allergens, and GMOs
+ Unwavering commitment to transparency, accountability, and truth in advertising
+ Initiatives to educate consumers so they can make informed decisions that affect their health
Website: nutrigold.com
Phone: 1-866-224-4680
Facebook: facebook.com/NutrigoldUSA
Google Plus: plus.google.com/+NutrigoldUSA
Twitter: twitter.com/Nutrigold_USA
FREE Product Samples: http://www.nutrigold.com/Free-Samples