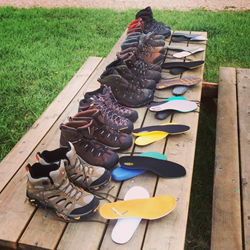 Your footwear is the most important piece of gear you take on the trail.
(PRWEB) August 31, 2014
OutdoorGearLab, a reputable outdoor gear review website specializing in side-by-side comparison reviews, has published an updated version of their popular and informative best hiking boot review. Fifteen top of the line products were tested while hiking, fastpacking, scrambling and even downhill running while weathering a lighting storm, in the mountains, desert and more. All of the products received weighted scores on the metrics of comfort, stability, traction, weight, water resistance and durability. Awards were given to the top scorers in the categories of Editors' Choice, Best Buy, and Top Pick. Also included in the review are tips on selecting the right product for your own personal needs, a related buying advice article and the lowdown and specifics on the different types of products in this category that are available.
The winners are:
Editors' Choice - Vasque St. Elias GTX Review
Gear Review Editor Brandon Lampley explains, "The St. Elias is the best of the bunch that we tested and great for backpacking or long day hikes. This product took very little time to break in and was very comfortable and supportive, especially the ankle collar. The St. Elias was constructed carefully and is extremely durable for how lightweight it is. Remember those old clunky hiking boots that had the required support and protection? Well, these are the perfect upgrade, light, durable, supportive, water resistant and with a comfort that is unparalleled."
Best Buy - Keen Targhee II Mid
According to Gear Editor Lampley, "The Targhee II is comfortable right out of the box and extremely lightweight. Pacific Crest Trail experienced hikers that we polled thought that Keen's signature toe design and construction is more durable than other contenders and appreciated the ability to be able to tighten the lacing around the ankle in order to prevent heel slippage. In addition to being light and comfortable the Targhee II mid also offers great traction and this whole package makes it a great product especially for its price range."
Top Pick - Salomon Quest 4D GTX
The Solomon Quest 4D was chosen Top Pick for fastpacking. Fastpacking is modern take on backpacking with emphasis on traveling fast and packing light. This product exemplifies these qualities in its design by being rugged enough to handle rough terrain while also being light and comfortable enough for the user to break into a run when conditions allow it. As explained by Lampley, "The Quest 4D is a high performance product that is agile enough for running yet durable enough for severe terrain. The Quest has a Contagrip sole insures great traction on different surfaces on or off trail."
Top Pick - La Sportiva Hyper Mid GTX
The La Sportiva Hyper Mid GTX was also chosen as a Top Pick award winner. The Hyper Mid was chosen as well due to its exceptional ability to grip on rock surfaces, which makes it perfect for persons whose ideal sport involves rock climbing. Gear Editor Lampley describes the unique design of the Hyper Mid, "This product is better for climbers and hikers than a more traditional rock climbing approach shoe. The Hyper Mid is a boot and therefore offers more support and protection but it's also waterproof while remaining breathable and has good midsole cushioning and torso stabilizing support. The Hyper sole toe area is designed for standing and smearing on rock edges and its rubber soles offer great traction for climbing rock. Our testers found this product comfortable, supportive, stable and great for long approaches."
OutdoorGearLab LLC is a company headquartered in Cheyenne, Wyoming dedicated to creating world's best outdoor gear reviews. The company performs side-by-side testing of outdoor gear and publishes the results in comparative reviews. Each product is scored across a range of weighted categories, competing products are ranked, and awards are given to top performing products. The company's website, OutdoorGearLab is a free resource for people who love the outdoors and participate in activities such as hiking, climbing, backpacking, and camping.