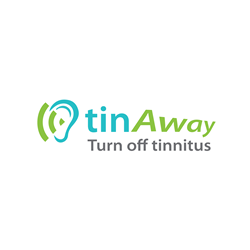 We believe tinAway offers a real chance to cure tinnitus
Melbourne, Victoria, Australia (PRWEB) September 02, 2014
The inventors of tinAway, a novel treatment that may provide a cure for chronic tinnitus are seeking support for development costs through a crowdfunding campaign. The campaign, run on the Indiegogo platform (http://igg.me/at/tinaway), was launched on September 1, 2014.
tinAway is designed to be a therapeutic 'mHealth' app and is based on ten years of neuroscience research. It's the brainchild of a team of biomedical and software engineers, Dr. Ian Dixon and Mr. Tony Burgess, based in Melbourne, Australia, who have formed tinAway Pty. Ltd.
Chronic tinnitus or 'ringing in the ears' is a potentially debilitating condition which affects around one in six people in the USA(1), and involves the perception of a sound that is not real. It's been previously shown that it's possible to suppress tinnitus temporarily(2), but Dr. Dixon believes it's possible to make this permanent.
tinAway is designed to generate multidimensional sound paradigms which aim to break a feedback loop linking perception of a tinnitus noise to irrelevant nerve activity. A single treatment should result in temporary tinnitus suppression. But by using tinAway for about an hour per day over a few weeks, it's hoped that repeated interruptions of the feedback loop will lead to overactivity in the brain being dampened. At this point, the tinnitus should disappear: 'the brain will have been re-trained and the suppression should become permanent,' explained Dr. Dixon.
A prototype tinAway app is ready for a clinical trial, but funds are needed. 'Clinical trials are hugely expensive,' said Dr. Dixon. 'We developed the tinAway prototype using our own resources but we need help to fund clinical trials.' Dr. Dixon and Mr. Burgess hope to raise 100,000 USD.
If trials and prototype finalisation are successful, tinAway will be filed with the FDA (a 510k application) and with health authorities in Australia and Europe and made available on iTunes.
'We believe tinAway offers a real chance to cure tinnitus,' Dr. Dixon said. 'After ten years, we finally have something we think is the answer. Now we're trying our best to get it through development with the help of the public.'
Interested people are invited to visit http://igg.me/at/tinaway
About chronic tinnitus
Sufferers of chronic tinnitus perceive a noise - whooshing, pure tones, or even a tune - which can affect their ability to maintain a normal life(3,4). A brain pathway activated in chronic tinnitus known as the extralemniscal pathway stimulates the amygdala, the emotion centre of the brain(5), causing feelings of stress and anxiety. The activation of this pathway means that patients have difficulty 'blocking out' the tinnitus sound they hear.
Causes of chronic tinnitus include ear trauma, some drugs, disease and some cases are of unclear origin. There is no proven cure.
About tinAway
The tinAway app blends neuroscience and innovative software development. It generates complex multi-dimensional (i.e. carrier frequency, envelope frequency, latency and other parameters) sounds with the potential to suppress tinnitus. It features a user interface based on algorithms to allow the user to logically progress towards the tinnitus suppression sounds.
Should development be successful, users would learn how to use tinAway either through a web-based training program or with their audiologist. Following this, tinAway would be used at home or in the office.
Currently, an iPad sized screen is required for the interface, but Mr. Burgess hopes to develop versions for other platforms.
About 'mHealth'
Market research firm Research2guidance estimates that worldwide, 500 million smartphone users will be using a health app by 2015(6). They range from apps for health monitoring to apps like tinAway which are intended to be therapeutic. Therapeutic apps for mental health conditions are also emerging(7).
About tinAway Pty. Ltd.
Behind tinAway are a team of software and biomedical engineers with twenty years of technical R&D experience, based at the Small Technology Cluster in Scoresby Victoria, Australia.
Dr Ian Dixon
Ian has both technology and business expertise.
Ian is an experienced and successful innovator/inventor. He is co-inventor of a drug now owned by a Nasdaq company and entering clinical trials in 2015. Ian has a PhD in biomedical engineering, studying tinnitus at Monash University, Australia, and has an MBA. Ian has worked in Australia, Cambridge UK and California USA on product and process development.
Tony Burgess
Like Ian, Tony has expertise both in technology and business.
Tony is an electronics and software engineer and experienced innovator. He specialises in marrying electronics and software technology in complex systems and has engineered several unique types of ore-sorting machines for the mining industry including x-ray devices for detection of diamonds in ore. He has also developed automated inspection systems for real-time quality control in the food industry and other image recognition and classification systems. Tony has a degree in Digital Electronics and Computing from Monash University.
Disclaimers
The content on this site contains statements about the future using terms such as "aims," "will," "believe," "would" "may," or similar. Such statements are based on the current beliefs and expectations regarding future events, and are subject to significant known and unknown risks and uncertainties.
Apple is not sponsoring or participating in the development of tinAway in any way.
References
1. Data from the 1999-2004 National Health and Nutrition Examination Survey (NHANES), conducted by the Centers for Disease Control and Prevention (CDC)
2. Tinnitus suppression with threshold and subthreshold sound stimuli. B. Franz G. Offut. Int Tinnitus J. 9:11-16. 2003.
3. General review of tinnitus: prevalence, mechanisms, effects, and management. J. Henry, K. Dennis, M. Schechter. J Speech Lang Hear Res 48:1204-1235. 2005.
4. Pathophysiology of tinnitus. A. R. Moller. Ototlaryngologic clinics of North America 36:249-266. 2003.
5. Information cascade from primary auditory cortex to the amygdala: corticocortical and corticoamygdaloid projections of temporal cortex in the rat. L. M. Romanski, J. E. LeDoux. Cereb Cortex 3:515–532. 1993.
6. http://www.research2guidance.com/500m-people-will-be-using-healthcare-mobile-applications-in-2015/
7. Granholm E, Ben-Zeev D, Link PC, Bradshaw K, Holden J. Mobile Assessment and Treatment for Schizophrenia (MATS): a pilot trial of an interactive text-messaging intervention for medication adherence, socialization, and auditory hallucinations. Schizophr Bull 2012;38(3):414–425.