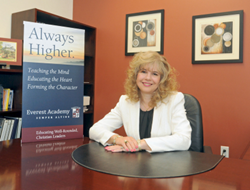 Everest Academy provides excellent opportunities for learning experiences that are personalized and rigorous. Everest Academy is to be commended for its commitment to educating the whole child," says Dr. Kim Sekulich principal.
(PRWEB) September 02, 2014
Everest Academy in Lemont opened its doors to returning and new students for the first full week of school this past Monday. Students were greeted by Dr. Kim Sekulich, the new principal appointed this past summer to Everest Academy. Dr. Sekulich brings a wealth of experience in elementary education to Everest in both teaching and administration. Dr. Kim Sekulich starts her new year along with 63 new students who range in grade from three year olds in the prekindergarten program all the way through eighth grade.
"I am excited about coming into a school in which so much progress has taken place. I look forward to building upon Everest Academy's accomplishments. Everest Academy opened its doors 5 years ago. It has been prepared to take the next step in growth—growth in enrollment, growth in educational programs, and growth in additional ways to make an impact on the community."
Over the past five years Everest has continued to build its enrollment, drawing families from the southwestern Chicago land area that are searching for strong academics and personal attention for their child(ren). The Everest community is very fortunate to be welcoming 43 new families to the school community.
Everest Academy is an independent Roman Catholic school in Lemont educating children from preschool through eighth grade. The teachers and staff are dedicated to forming the whole child by providing the highest level of academics, by building strong character, and by preparing generous leaders ready to serve the community. If you would like to learn more about Everest Academy's unique approach to education, please contact KC Wollenberg at 630-243-1995 or visit http://www.everestadvantage.org.