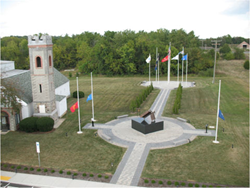 Using thirty-six pavers, the trail highlights the county's military history and provides an easy way for visitors to follow these stories into the county.'
Franklin County, Pennsylvania (PRWEB) September 09, 2014
Thursday, September 11, 2014 marks thirteen years since the devastation of 9/11. As Americans remember and pay tribute, it is a chance to experience two 9/11 memorials in Franklin County PA. Each one serves as an anchor of the Franklin County Military Trail of History, which highlights 275 years of Franklin County's military history. The Military Trail of history begins at the Franklin County Veterans' Memorial Park, adjacent to the Letterkenny Army Depot Chapel in Chambersburg PA. The Chapel, built in 1945 by Italian prisoners of war, using stone from many of the original farmhouses on the depot site, is the starting point of the Military Trail of History. Using thirty-six pavers, the trail tells the stories of Franklin County's veterans and the county's role in American history and provides an easy way for visitors to follow these stories into the county's communities, see the story sites firsthand, or launch into a frontier, Civil War, or architectural tour. An online resource and repository of county veterans and military history gives more information about the military history of Franklin County and the integration of the 9/11 memorial into the military trail of history.
Be it through personal service or the service of a relative, the loss of a loved one, or the recognition of valor--American lives are touched by military history. Nearly 15% of the American population is actively serving in the military or is a veteran, which represents close to 30 million Americans. Military history is the blueprint of American history. It is particularly true in Franklin County, and the examples are many. James Smith and the Black Boys fired on the British Fort Loudoun 10 years prior to the events at Lexington and Concord. Molly Cochran Corbin, born in Franklin County, was the first woman to receive a military pension and only Revolutionary soldier to be buried at West Point with honors. Thompson's Rifle Battalion, Company A--a unit of sharpshooting frontiersmen of Franklin County--marched 450 miles to the Siege of Boston. The first Union solider killed on Union soil, Corporal William Rihl, lost his life in Franklin County. Henry Prather Fletcher, one of Theodore Roosevelt's Rough Riders and American diplomat, was born and lived in Franklin County. Fast forward to World War II, Letterkenny Ordinance Depot is a significant piece of military history. From the pre-Revolutionary War to the saddening events of September 11 and the recent wars in Afghanistan and Iraq, Franklin County has many stories of its military men and women's contributions to the nation, the Franklin County Trail of Military History is the way to experience two centuries of local and American history.
The Franklin County Visitors Bureau connects people to great moments in Franklin County by sharing its history, recreation, relaxation, entertainment, dining, and hospitality.