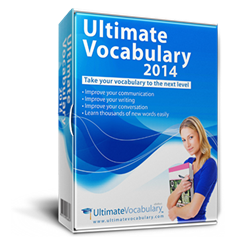 Improve your vocabulary, educate yourself as to what works with digital readers and give them content they will find useful and shareworthy.
New York City, NY (PRWEB) September 01, 2014
eReflect, developer of Ultimate Vocabulary™, presents a list of words people are encouraged to use in their headlines to make their content more appealing, and to encourage readers to click through and engage with a business.
eReflect believes that someone establishing an online presence should follow a customized approach to each social network they are active on. What works on Facebook doesn't necessarily appeal to Twitter followers, eReflect notes, and G+ communities might be indifferent to a Pinterest-like approach. For that reason, the company has used its popular Ultimate Vocabulary blog to share words that work on Facebook, such as "now" and "inspire" and "win."
As the company points out in the article, words like "contest," "sweepstakes," and "promotion" are better left out of Facebook post headlines and content, to avoid driving readers away. For Twitter, eReflect urges social media account managers to opt for words like "help," "retweet,", and "please."
eReflect warns readers to avoid spamming their readers with meaningless buzzwords, and to eliminate misleading promises from their headlines so as to not disappoint and frustrate readers. A long-term goal for any social media marketing effort is to offer reliable, relevant, and high-quality content to an audience. To achieve this, eReflect recommends that bloggers and other social media users build vocabulary confidence by expanding and enriching their lexicon. As the editors comment, "Improve your vocabulary, educate yourself as to what works with digital readers and give them content they will find useful and shareworthy."
Ultimate Vocabulary™ is a vocabulary builder that has already given a verbal advantage to its users by substantially improving the reach and depth of their vocabulary. The program teaches people to make smart word choices, helping writers choose the best words to reach their specific target audiences. eReflect's latest article ends with advice on word choice, recommending that online writers make a more consistent use of the pronouns "you" and "your" and take advantage of the power of time- and place-specific headlines with words like "when" and "where."
The eReflect blog editors credit Quicksprout and Neil Patel for inspiration and resources used in writing this latest post.
***********
For more information on how you can benefit from Ultimate Vocabulary, please visit its official website, http://www.ultimatevocabulary.com.
About Ultimate Vocabulary™
Ultimate Vocabulary provides a proven and powerful platform, built to improve anyone's vocabulary.
The interactive self-improvement system provides more learning tools than any other program on the market, as well as more information on words.
The Ultimate Vocabulary software provides each and every user with a personal computer tutor. Providing a step-by-step guide to learning a powerful vocabulary, Ultimate Vocabulary is the learning tool everyone can benefit from.
Of course, the software is also backed by eReflect's iron-clad money back guarantee.