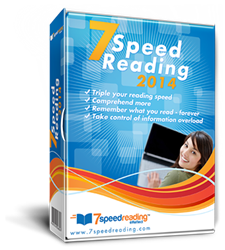 Failure to keep up with reading goals could actually be the motivation people need for mastering speed reading...
New York City, NY (PRWEB) September 03, 2014
7 Speed Reading™ creator eReflect acknowledges the importance of failure in its latest blog post, "The Magic of Failure: How it Builds Character for Success." eReflect argues that without failure, people would never come to understand that hard work and continuous effort are essential for making things work in life.
eReflect also observes that without, failure people may start feel that success is something that comes easily, when in fact success is a painstaking, demanding process. As the well-known quote states, success is not measured by how many times a person fails, but how many times they rise up again after falling down. As the blog post emphasizes, in every failure there is wisdom to be gained and insights to be learned.
People interested in increasing their knowledge often feel there's not enough time in a day to allow them to read everything they need to accomplish that goal. Often, they are afraid they will fail in their reading goals, before even trying. As the developer of one of the best speed reading software available on the market, eReflect maintains that there are solutions to this dilemma, such as learning to speed read through speed read courses. Failure to keep up with reading goals could actually be the motivation people need for mastering speed reading, notes eReflect. People often come to realize that speed reading is the one skill that will help them achieve success.
Failure accomplishes many things. It urges people to look at alternatives, and it also helps them improve upon their strategies and approaches to problems. eReflect notes that even if it sounds like a paradox, failure can be empowering. When a person decides to keep trying despite poor results (or no results at all), that is a self-affirming act that reminds them of the courage and strength they hold inside.
eReflect also explains that failure reminds people that both failure and success are impermanent. If a person fails at a given task or goal, that's a current, fleeting state. It can be changed by trying again and by trying differently. If well-planned efforts take an unexpected turn that doesn't make the whole process a failure. Failure, concludes eReflect, is when a person stops trying. Instead of not trying any more, eReflect recommends simply adjusting plans and actions to better suit the new reality.
************
For more information about the benefits of using 7 Speed Reading, please visit the official website at http://www.7speedreading.com.
About 7 Speed Reading™
7 Speed Reading is the only modern speed reading software that uses the latest technology to produce superior results.
The software provides its users with a new way to master speed reading that guarantees three times the reading speed along with improved memory and comprehension.
The software is poised as the most comprehensive speed reading system anywhere. It contains seven learning strategies, fifteen software activities, video training, advanced tracking capabilities and many more exciting features.