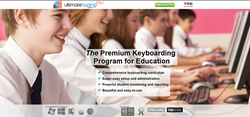 The problem educators and students face is deciding how students can develop good typing skills if their curriculum leaves no free time for it.
New York City, NY (PRWEB) September 04, 2014
"How Should Keyboarding Be Taught At Schools?" is an opinion article by Matt Renwick originally published at Ed Tech magazine and recently featured on the official Ultimate Typing blog, eReflect announced today.
eReflect presents Renwick's viewpoint on how to structure and conduct typing classes for elementary students, in an effort to raise awareness on the 21st-century imperative of introducing touch typing classes in schools as early as possible. eReflect's goal is to initiate a discussion focused on the often blatant lack of official keyboarding classes in schools, something that leaves students with a significant skill gap as they work towards higher education and professional goals.
Budget cuts and educational curriculum reforms have taken their toll on the tech skills of young students as keyboarding classes were among the first classes to be shown the door. The problem educators and students face is deciding how students can develop good typing skills if their curriculum leaves no free time for it. Another common problem is when schools cannot afford the technology necessary for them to improve their students' keyboarding skills, as Mark Renwick discusses in his article.
Renwick shares his keyboarding success story with Ultimate Typing readers. He explains how the keyboarding class he introduced, one based on co-learning and co-teaching, made it possible for his school to launch a six-week keyboarding program for third, fourth, and fifth graders during the new school year.
eReflect finds initiatives like principal's Renwick praiseworthy. His keyboarding instruction initiative was successful beyond his initial expectations, and it has given the Wisconsin elementary school community valuable insights as to how technology can promote learning and allow students to leverage its potential for learning and growing.
eReflect is the developer of one of the best typing software products available today, Ultimate Typing™ . The program has been recently revamped and enriched to create Ultimate Typing™ EDU, a classroom-tailored typing program that helps teachers introduce keyboarding to their students.
Making instruction in keyboarding for schools simple and affordable was one of eReflect's priorities in the beginning, and this goal has been recently realized with the launch of the cloud-based Ultimate Typing™ EDU software. Unlike typing programs designed only for at-home use, Ultimate Typing™ is tailored to a classroom's needs.
*********
For more details on Ultimate Typing™ EDU please visit http://www.ultimatetyping.com/schools.
About Ultimate Typing™
Ultimate Typing™ software is designed specifically for the improvement of typing skills. Created by eReflect, a world leader in e-learning and self-development software, Ultimate Typing™ has been informed by the latest developments in the science of touch typing.
Since its creation in 2006 by Marc Slater, the company has already catered to over 112 countries all over the world, offering products with the latest cutting-edge technology, some of which are among the world's most recognized and awarded in the industry.