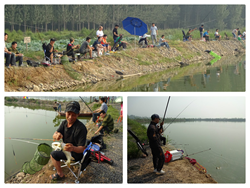 Zhengzhou, China (PRWEB) September 01, 2014
According to iAbrasive latest news, for the purpose of enriching the amateur life of workers, on August 21 Sanmenxia Mingzhu Electric Metallurgical Co., Ltd. held a fishing competition. More than 20 fishing enthusiasts from each brand of Mingzhu took part in that competition.
After the competition began, all contestants sat on their own position in accordance with the draw, took out well-prepared bait and tackle, and threw themselves into the competition. Among them, some were fledgling enthusiasts, and some were skilled anglers. All of them employed all their skill in the contest.
After two hours of intensive competition, Bai Zhiguo of the First Branch ranked first for the total weight and the single heaviest fish, and Zhang Wentao of the Sand-manufacturing Branch won first with regard to the total number of fish.
(Source: Sanmenxia Mingzhu Electric Metallurgical Co., Ltd, Writer: Dong Fangrui, Editor: iAbrasive.com)