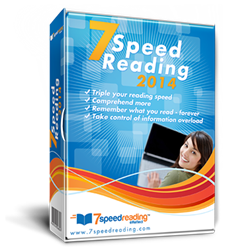 ...they should learn to speed read so that they can make their way through these books and others as quickly as they run through the streets.
New York City, NY (PRWEB) September 06, 2014
eReflect is proud to announce the latest 7 Speed Reading™ blog post, which focuses on running. The 7 Speed Reading™ writers present 7 books on running to their audience, which include people already into the activity and people looking for a new exercise to get hooked on.
After dismissing any rumors about running being an exhausting activity, 7 Speed Reading™ shares the first of the book recommendations, "The Science of Running: How to Find Your Limit and Train To Maximize Your Performance" by Steve Magness. In this book, elite coach Magness explains how people can fine-tune their running practice to better suit their physical capacities.
"Born to Run" by Christopher McDougal is a must-read for seasoned runners and beginners alike. This motivational and inspiring book proves that running is not just a passion some people have, but something that is a built-in and essential part of being human. It's a bold argument, and McDougall supports it persuasively in this page-turner.
"Running On Empty" by Marshall Ulrich is a book every runner needs to read, says eReflect. It helps people understand and marvel at the immense and bottomless human willpower, grit, and psychological strength that runners require.
"The Runner's Rule Book – Everything a Runner Needs to Know and then Some," by the editors of Runner's World and Mark Remy, is another inspirational book for runners worldwide. According to the 7 Speed Reading™ editorial team, this is a handpicked collection of rules and running principles people ought to know and practice. What's unique about it is the tongue-in-cheek approach it sometimes takes. As the editors of the speed reading program say, this is "a perfect gift for the uninitiated or a friend who got it [running] all wrong." The editors also suggest "The Runner's World Cookbook" and "Running for Women" as two other popular and valuable running-themed books.
eReflect, designer of one of the best speed reading programs currently available, encourages runners to keep up with their exercise routines to enhance their endurance and strength and improve their overall health. If they seek to run through pages and not only cross-country courses, then they should learn to speed read so that they can make their way through these books and others as quickly as they run through the streets.
************
For more information about the benefits of using 7 Speed Reading, please visit the official website at http://www.7speedreading.com.
About 7 Speed Reading™
7 Speed Reading is the only modern speed reading software that uses the latest technology to produce superior results.
The software provides its users with a new way to master speed reading that guarantees three times the reading speed along with improved memory and comprehension.
The software is poised as the most comprehensive speed reading system anywhere. It contains seven learning strategies, fifteen software activities, video training, advanced tracking capabilities and many more exciting features.