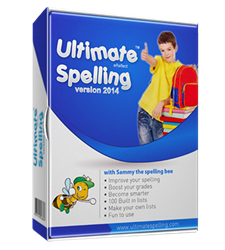 Most people learn to spell in school and never brush up on their spelling skills afterward.
New York City, NY (PRWEB) September 08, 2014
Spelling mistakes abound online. In fact, people are keen to point out others' careless misspellings, to the dismay of many poor spellers out there who have published faulty material. eReflect shares 7 common spelling mistakes on the Ultimate Spelling™ blog, noting that these were found on popular social networks. The company hopes to remind spellers to be more careful with their digital content, and to always proofread before hitting "Send."
Most people learn to spell in school and never brush up on their spelling skills afterward. However, eReflect believes that it is crucially important that people are more meticulous with the content they share online - not only in terms of sharing sensitive information, but also in terms of sharing poorly written content.
Autocorrected misspellings like "lack toes and tolerant" instead of "lactose intolerant" or "seizure salad" instead of "Caesar salad" are but a few of the tweets Ultimate Spelling™ shares with its readers. While these are fun to read and joke about, they make the creator of the content look unintelligent. eReflect points out that this emphasizes the importance of not relying on a computer's autocorrect function to eliminate all spelling problems.
Ultimate Spelling™ is one of the best spelling software systems on the market, according to review sites like Top Ten Reviews and Boffin. Using this software can help people improve their spelling performance and learn to avoid awkward scenarios where they spell "hypocrite" as "Hippocrates" (the father of Medicine, and an honest individual by all reports).
Other spelling mistakes eReflect points out are "lyk" instead of "like" and using "n" and "b" instead of "and" and "be" for brevity. These misspellings are common in text messages, and are often intentional, with the goal of saving time. However, spelling correctly is a habit that should be applied in all circumstances, the company notes. Taking a few extra seconds to write in proper English makes people look more professional and knowledgeable.
Spelling mistakes are forgivable, if they don't happen too often. They are often the source of funny puns and memorable autocorrects, but most people don't want to be remembered for their mistakes, no matter how humorous. eReflect highly recommends that people proofread their content before sharing it with others to avoid being embarrassed by any mistakes.
eReflect believes that spelling improvement is possible with software that offers fun and interesting activities and games to practice with. Spelling doesn't have to be a tedious learning process like it was for the classes of 20 and 30 years ago, and the company encourage people to look for modern methods that teach this age-old skill.
***********
For more information about how Ultimate Spelling software can improve spelling performance for you and your family, please visit the official website at http://www.ultimatespelling.com.
About Ultimate Spelling™
Ultimate Spelling provides a modern and easy to use spelling software that has been designed with one goal in mind – making children want to learn.
It is a fast and easy way to master even the most complicated spelling, without the need to write long lists or complete boring tests.
In fact, Ultimate Spelling provides more than just spelling help. It is a complete educational resource that boosts all level of a child's literacy.
Containing a personal computer tutor, Ultimate Spelling is the most realistic step-by-step guide to flawless spelling ability.