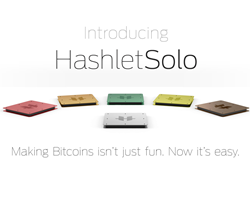 Don't be surprised to see mining become grandma's new obsession!
Bloomfield, CT (PRWEB) September 01, 2014
GAWMiners released the world's easiest-to-use bitcoin miner, Hashlet Solo, selling $1M units overnight and gaving yet another twist to the wildly successful Hashlet story Friday evening.
Customers own Hashlet Solos and run them remotely in the popular and easy-to-use ZenCloud interface, which GAWMiners acquired last month for $8M. They come in multiple varieties, each of which generate bitcoins at specific rates. They are priced accordingly.
GAWMiners claims each Hashlet Solo will upgrade over time and will never grow obsolete, a problem that has plagued bitcoin hardware since the currency's inception. But perhaps most important is that Hashlet Solos are designed to completely remove the learning curve associated with cryptomining, making it as easy to use as email. The company calls them "grandma approved".
"Hashlet owners can start mining bitcoins instantly with no technical knowledge" says CEO Josh Garza. "They activate their Hashlet via email and receive guaranteed payouts by logging into their ZenCloud account at any time."
Hashlet Solo appears to be the secret behind GAWMiners' back-to-back acquisition of ZenCloud and BTC.com, which it plans to utilize for "Project Prime", the company's code name for its next-generation bitcoin platform expected to take the cryptocurrency mainstream. It is becoming clear the company's $9 million investment and launch of the Hashlet is part of a grand strategy take Bitcoin mining to the mainstream consumer market.
Hashlet Solo is expected to radically change the cryptomining scene by purging it of technical difficulty, delays, and crippling obsolescence, all major irritants for newcomers and veterans alike. Hashlet Solo prices start at $16.95 each, with an estimated payback period of 2–4 months. It thus looks ready to eliminate all the entry barriers that stand between an average person and cryptomining. Price, ease of use, and technical knowledge.
"Don't be surprised to see mining become grandma's new obsession!" says Josh Garza.