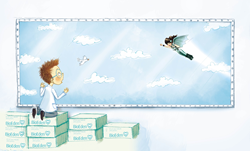 (PRWEB UK) 2 September 2014
Schools in the UK are preparing to become actively involved in helping to educate parents and children on the health benefits of stem cell banking.
BioEden the specialist tooth stem cell bank are producing educational materials for schools which includes a delightfully illustrated book 'Nothing but the Tooth' which is available from today.
The book although a fun fictional piece starring a 21st Century Super Tooth Fairy and a small boy called Nigel, is based on fact and educates both children and adults alike on stem cell banking from teeth. The book follows Nigel as he visits the BioEden stem cell laboratory and brings home to the reader why stem cell banking today is a simple yet invaluable way of storing good health for the future.
It is now known that naturally shed milk teeth in young children contain a vital source of mesenchymal stem cells. These cells have the ability to morph into other types of cells and can create cartilage, tissue, skin and bone.
As the teeth fall out naturally, the process of harvesting cells is non-invasive and many parents choose this method for this very reason. Stem cell banking from teeth is also the least expensive form of banking and parents can now pay a low monthly fee, instead of a single sum.
As there is no telling exactly when a tooth will fall, despite the tell-tale wobble, a spare tooth collection capsule is provided for the school so that if the tooth falls out in the classroom or playground, the tooth can be safely collected and stored without delay.
The BioEden process is so simple that the teacher is merely required to place the tooth into the capsule with some fresh cows milk, place in a refrigerator, and then notify the parent or guardian.
BioEden have been invited into schools from late September and will be supported by TV Celebrity Cook Sally Bee, whose own children have their stem cells stored with the bank. Sally has a rare heart condition, and it was her personal experience that led her to bank her children's stem cells.