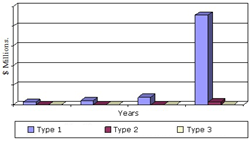 Global Market for Blood-Brain Barrier (BBB) Technology to Reach $471.5 Million in 2019
Wellesley, Mass., (PRWEB) September 01, 2014
BCC Research (http://www.bccresearch.com) reveals in its new report, BLOOD-BRAIN BARRIER TECHNOLOGIES AND GLOBAL MARKETS, the global market for blood-brain barrier (BBB) technology reached $21.8 million in 2013 and is expected to reach $38.7 million in 2014. This is anticipated to further grow to $471.5 million by 2019, which is equivalent to 64.9% compound annual growth rate (CAGR) from 2014 through 2019. The receptor-mediated transport (RMT) segment is forecasted to grow at a CAGR of 63.8%.
BBB technologies are poised to open up a vast untapped potential in the growing central nervous system therapeutic market, where today growth is limited by the complexity of this layer.
Emerging markets will make up the minority once approvals abroad go through, but numbers will climb over time. Emerging markets include China, Russia, Brazil, India, Turkey, Pakistan, Egypt, Ukraine, Venezuela, South Africa, Mexico, Argentina, Thailand, Vietnam and Indonesia. Growth in Latin America is estimated to rise by about 10.5% CAGR over the same period, while the United States and Europe should see negative growth, as sales of drugs already on the market in these areas remain stagnant. The Japanese market is expected to grow by around 4% CAGR from 2012 to 2017.
"These predictions are more conservative than BCC Research's last estimates on BBB technologies and reflects a still recovering global economy, as well as investors who desire to preserve capital," says BCC Research analyst Kim Lawson. "The current market participants are slow to move past various technological hurdles to find new solutions to scientific issues, and appear to have a wait-and-see strategy in developing the best partnerships that could fuel quicker solutions."
BLOOD-BRAIN BARRIER TECHNOLOGIES AND GLOBAL MARKETS defines the various BBB technologies and provides their history in medicine. The report also looks at the types and technology categories, major companies, impact on the pharmaceutical market, applications, current market values, growth potential and significant trends.
Editors and reporters who wish to speak with the analyst should contact Steven Cumming at steven.cumming(at)bccresearch(dot)com.
About BCC Research
BCC Research publishes market research reports that make organizations worldwide more profitable with intelligence that drives smart business decisions. These reports cover today's major industrial and technology sectors, including emerging markets. For more than 40 years, we have helped customers identify new market opportunities with accurate and reliable data and insight, including market sizing, forecasting, industry overviews, and identification of significant trends and key competitors. We partner with analysts who are experts in specific areas of industry and technology, providing unbiased measurements and assessments of global markets. Our clients include the top companies in industries around the world as well as universities, business schools, start-ups, consulting firms and investment companies. BCC Research is a unit of Eli Research LLC. Visit our website at http://www.bccresearch.com. Contact us: (+1) 781-489-7301 (U.S. Eastern Time), or E-mail information(at)bccresearch(dot)com.
Data and analysis extracted from this press release must be accompanied by a statement identifying BCC Research LLC, 49-2 Walnut Park, Wellesley, MA 02481, Telephone: (+1) 781-489-7301; E-mail: editor(at)bccresearch(dot)com as the source and publisher. Thank you.