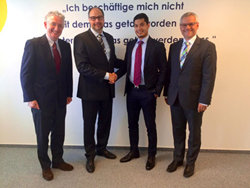 (PRWEB) September 02, 2014
PEOPLECERT (http://www.peoplecert.org) today announced they have signed a global agreement with SERVIEW (http://www.serview.de), the market leader in AXELOS Global Best Practice training and consulting in Germany, for the delivery of the AXELOS Global Best Practice (GBP) certifications. The two organisations will work together on a joint marketing strategy that will aim to increase Global Best Practice awareness through joint initiatives and a strong marketing investment by both parties in industry events, the sponsoring of industry publications, online marketing campaigns targeting professionals from different industries and promotional activities that aim to increase the certifications' brand positioning.
In addition, the two organisations will design customised innovative exam delivery solutions, aiming to further simplify the exam experience for SERVIEW's candidates. These will come to add to PEOPLECERT's e-services, a suite of online tools that offer a user friendly, quick and secure exam taking experience.
Markus Bause, Managing Director of SERVIEW, commented: "SERVIEW's business philosophy is based on outstanding quality of service delivery and innovative learning solutions. We are very excited that PEOPLECERT shares this business philosophy and brings a unique combination of quality and innovation to the exam process the supports its partners to grow their business, whether locally, regionally or worldwide. This is one of the key reasons we decided to partner with them".
"Reputable training organisations such as SERVIEW today need more than an efficient exam delivery service provider. They need a partner with the right business mindset, global marketing capabilities and drive to help them grow their outreach and cultivate their business. We are delighted to have SERVIEW on board and look forward to a strong multi-year partnership." Dimitris Nicolaides, PEOPLECERT's Business Development Manager said.
SERVIEW is an inimitable management consultancy and training company with strong ideals. As an international acting company, SERVIEW support their clients in the key aspects of management and organizational development. SERVIEW has trained and certified more than 50,000 professionals in different market sectors, through innovative learning methods and quality driven training models. For more than ten years SERVIEW achieves excellent results for our customers using ITIL and other proven best practices – results that not only deliver financial return but as the tailored and holistic solutions they are provide value on investment by facilitating the successful business integration and partnership.
PEOPLECERT is a global leader in the certification industry, delivering exams across 125 countries every year. PEOPLECERT offers the full Global Best Practice portfolio, including ITIL, PRINCE2, MSP, M_o_R, P3M3, P3O, MoP and MoV, through a global network of leading training organisations and its in-house award winning online proctoring service. The agreement comes to strengthen PEOPLECERT's position in Europe, where the organisation has seen rapid growth following intense investment in the region, with more local resources, customised systems and services driven by local requirements.
ENDS