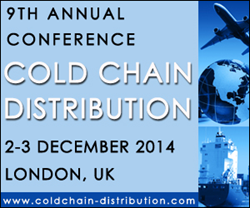 "A very well organised event. Professional team and well executed" - Cold Chain Distribution 2013 Attendee
(PRWEB UK) 1 September 2014
SMi's 9th annual Cold Chain Distribution Conference and Exhibition will be taking place in London, UK, on the 2nd and 3rd of December 2014. The 2-day event programme includes hand-picked case studies, presentations and round table discussions on the key issues surrounding the global healthcare cold chain distribution process and logistic requirements for various temperature sensitive healthcare products.
The event is sponsored by World Courier (Lead Sponsor), Amsafe Bridport, Berlinger, Cryopak Europe, ELPRO, Movianto, Peli Cool Logistics, Sensitech and Testo.
Latest registered attendees include - GDP & Compliance Manager from F. Hoffmann-La Roche Ltd; Packaging Operations Director from GlaxoSmithKline, Global Head Supply Chain Quality from Roche Pharmaceuticals, Distribution Coordinator from Takeda Pharma International, Quality Service Manager from Mundipharma, among others.
2-day event programme includes 5 sections:
1) Regulatory Updates and Implementations, includes presentations from: GDP Inspector- MHRA; Member of GDP Drafting Group- Dutch Health Care Inspectorate; Logistics Manager- Public Health England; Senior Manager, Special Cargo- IATA
2) Enhancing Supply Chain Efficiencies, includes presentations from: Senior Director, Global Clinical Packaging Operations- Sanofi-Aventis; Business Development Manager, Biopharm Services, World Courier; Director, Directorate Logistics- Ministere de I'Economie; International Supply Chain Lead- Genzyme Corporation
3) Temperature Management and Monitoring, includes presentations from: Global Head, Pharmaceuticals & Life Sciences- IAG Cargo and a Technical Service Manager from GlaxoSmithKline
4) GDP Implementation and Risk Mitigation, includes presentations from: UK Quality Manager- Abbvie Ltd; QA Manager, Quality & Compliance, Logistics- GlaxoSmithKline; Supply Chain Senior Manager- Merck Serono SpA and a Manager, Cold Chain Strategy from American Airlines
5) Packaging Perfection, includes presentations from a Corporate Clinical Trial Supply
and QC GMP Compliance Manager, Sigma-Tau S.p.A
Conference programme includes a round table discussion on transport qualification for temperature sensitive pharmaceutical products, led by Tony Wright (Managing Director, Exelsius Cold Chain Management) and an opening address from Alan Dorling, Global Head, Pharmaceutical & Life Sciences, IAG Cargo.
For more information about this event, please contact Fateja Begum on +44(0) 207 827 6184 or e-mail fbegum(at)smi-online(dot)co(dot)uk
Sponsorship enquiries: contact Alia Malick via +44(0) 207 827 6168 or e-mail amalick(at)smi-online(dot)co(dot)uk
Further information available online at http://www.smi-online.co.uk/2014coldchain40.asp
9th annual Cold Chain Distribution
2-3 December 2014
Marriott Regents Park Hotel
London UK
About SMi:
Established since 1993, the SMi Group is a global event-production company that specializes in Business-to-Business Conferences, Workshops, Masterclasses and online Communities. We create and deliver events in the Defence, Security, Energy, Utilities, Finance and Pharmaceutical industries. We pride ourselves on having access to the world's most forward thinking opinion leaders and visionaries, allowing us to bring our communities together to Learn, Engage, Share and Network. We hold events in over 30 major cities throughout the world including London, Paris and Singapore and to date have welcomed over 200,000 participants from 80 countries.
More information can be found at http://www.smi-online.co.uk