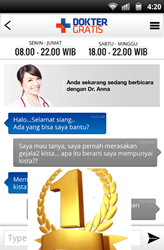 (PRWEB) September 05, 2014
http://www.health2i.com Over the past couple of years, a silent movement has been in progress in Indonesia. At least a handful of entrants are trying to woo the mobile phone users to make best use of their apps for improving their health. A couple of those app providers managed to take off while the rest are trailing. However, Dokter Gratis, an app provided by Singapore based Health2i Pte Ltd has taken lead by enabling around half a million downloads collectively on mobile platforms like Blackberry, Android and others.
Nearly 200k users effectively use the platform at regular intervals. Daily, over 1500 healthcare consumers are consulting the physicians who are online on the platform.
This has positioned Dokter Gratis as an ideal platform for reaching out to healthcare consumers for brands that are looking for targeted marketing and public relations in Indonesia over social media. A few renowned global brands have already utilized the platform for their PR and advertising needs.
Apart from Indonesia, Dokter Gratis also has been adopted in Pakistan under the name Chitchat Doctor and has decent userbase.
After having seen initial success, Dokter Gratis is releasing a newer version in September with more refinement of the service.
The android app can be downloaded at : https://play.google.com/store/apps/details?id=com.waki.doktergratis
The new version of Dokter Gratis is also being launched in a couple of countries in Africa under a JV with a local firm.
About Dokter Gratis :
Dokter Gratis is a mobile application platform operated by Health2i Pte Ltd that enables healthcare consumers to seek basic information on health topics prior to any medical consultation with a physician.
About Health2i :
Health2i Pte Ltd is a Singapore based technology enabler for healthcare with a focus on improving care delivery in emerging markets. The angel backed venture owns other various web assets for healthcare such as BlaBla Doctor http://www.blabladoctor.com and Hospital Pix http://www.hospitalpix.com
Contact Health2i for further information