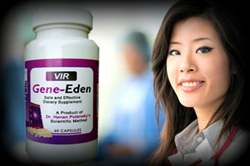 Similar to attitudes about genital herpes, too many people look down on those they believe are infected with HPV. - Greg Bennett, CBCD
Rochester, NY (PRWEB) September 03, 2014
"Infected with the human papillomavirus (HPV)? The CBCD recommends taking Novirin or Gene-Eden-VIR." - Greg Bennett, CBCD
The Center for the Biology of Chronic Disease (CBCD) congratulates NYC Council Woman Melissa Mark-Viverito. The New York City council woman told the entire world via Twitter that she is infected with the human papillomavirus (HPV). She wrote "Yes, I'm an extremely private person. But this position has led me to understand I now have a bigger responsibility." (1) According to the New York Times, Ms. Mark-Viverito believes that responsibility "meant using her prominence to reduce the stigma surrounding HPV, which is linked to cervical and other cancers. She saw a chance to send a message, particularly to parents, that cervical cancer is a dangerous disease, and that there is a highly effective vaccine for the virus that far too few children are getting." (1) As the New York Times notes, "Ms. Mark-Viverito is not a health professional, but she is in an excellent position to help get the message out." (1)
The CBCD supports Ms. Mark-Viverito's message, however, the CBCD reminds the public that the HPV vaccine is limited. Gardasil does not protect against all HPV strains and does not treat cervical cancer or genital warts. As the Gardasil website points out: "Gardasil may not fully protect everyone, nor will it protect against diseases caused by other HPV types or against diseases not caused by HPV. Gardasil does not prevent all types of cervical cancer, so future cervical cancer screenings will be important for your daughter. Gardasil does not treat cervical cancer or genital warts." (See Gardasil.com) (2)
Click to learn more about HPV symptoms.
The Center for the Biology of Chronic Disease (CBCD) therefore recommends that Americans infected with HPV take Novirin or Gene-Eden-VIR. The formula of these natural antiviral products was tested by Hanan Polansky and Edan Itzkovitz from the CBCD in two clinical studies that followed FDA guidelines. The studies showed that the Novirin and Gene-Eden-VIR formula is effective against the HPV and other viruses. The clinical studies were published in the peer reviewed, medical journal Pharmacology & Pharmacy, the first, in a special edition on Advances in Antiviral Drugs. Study authors wrote that, "individuals infected with the HPV…reported a safe decrease in their symptoms following treatment with Gene-Eden-VIR." (3) The study authors also wrote that "we observed a statistically significant decrease in the severity, duration, and frequency of symptoms." (3)
Both products can be ordered online on the Novirin and Gene-Eden-VIR websites.
Novirin and Gene-Eden-VIR are natural antiviral dietary supplements. Their formula contains five natural ingredients: Selenium, Camellia Sinesis Extract, Quercetin, Cinnamomum Extract, and Licorice Extract. The first ingredient is a trace element, and the other four are plant extracts. Each ingredient and its dose was chosen through a scientific approach. Scientists at polyDNA, the company that invented and patented the formula, scanned thousands of scientific and medical papers published in various medical and scientific journals, and identified the safest and most effective natural ingredients against latent viruses.
Novirin and Gene-Eden-VIR are not drugs. To date, Novirin and Gene-Eden-VIR are the only natural antiviral products on the market with published clinical studies that support their claims.
"Similar to attitudes about genital herpes, too many people look down on those they believe are infected with HPV. There's a stigma that infected individuals should not have to deal with, particularly when HPV is the most common sexually transmitted disease in the United States. " - Greg Bennett, CBCD
"There are 109 known different types of human papillomaviruses (HPV). They cause warts and other lesions and two in particular, HPV 16 and HPV 18, cause cancers of the cervix, anus and penis, as well as the mouth and throat. Types 6 and 11 can cause lesions and genital warts." (4)
Most people with HPV never exhibit symptoms. When symptoms do appear, however, individuals may feel intense feelings of shame. They want to know which treatments are available against the HPV virus.
"There are no drugs approved against the HPV. Current treatments include procedures, such as cryotherapy, conization, and the Loop Electrosurgical Excision Procedure (LEEP). These procedures use liquid nitrogen, a surgical knife (scalpel), a carbon dioxide (CO2) laser, or electrical current to remove the abnormal growths caused by the HPV. These growths include cells that harbor the active virus. The procedures do not target cells with the latent virus. Since they do not remove the latent virus, these procedures only produce a temporary remission." (2) In contrast, Novirin and Gene-Eden-VIR were designed to target the latent HPV.
"We recommend that individuals worried about their HPV infection take Novirin or Gene-Eden-VIR" - Greg Bennett, CBCD
Individuals interested in viewing published studies on the formula of Novirin and Gene-Eden-VIR can go here:http://www.scirp.org/journal/PaperInformation.aspx?PaperID=36101#.U-s9ouOSz90 and http://www.scirp.org/journal/PaperInformation.aspx?PaperID=44234#.U-s9w-OSz90
References:
(1) The New York Times - The City Council Speaker's Honesty
Melissa Mark-Viverito Candidly Discusses HPV. Published August 20, 2014.
nytimes.com/2014/08/21/opinion/melissa-mark-viverito-candidly-discusses-hpv.html?_r=0
(2) Gardasil.com -gardasil.com/about-gardasil/about-gardasil/
(3) Polansky, H. Itzkovits, E. "Gene-Eden-VIR Is Antiviral: Results of a Post Marketing Clinical Study." Published in September 2013. http://www.scirp.org/journal/PaperInformation.aspx?PaperID=36101#.VARVB8WSz90
(4) Fox, M. HPV Found in Two-Thirds of Americans, Survey Finds. Published on May 20, 2014.
nbcnews.com/health/health-news/hpv-found-two-thirds-americans-survey-finds-n109846