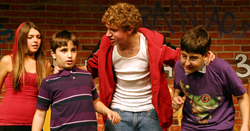 With the new school year upon us, we need to keep fighting bullying in school. It takes the entire community to end bullying in school.
London, UK (PRWEB) September 02, 2014
Learning how to be a bully at school can be tough. Sometimes it's really difficult for one to know when and how to assert dominance over another human being in a public setting. With a big percentage of schools turning to look the other way when it comes to school bullying, maybe thinking how to be a bully at school is a wakeup call for communities to eradicate school bullying. NoBullying releases today an expose on how to be a bully at school.
The article walks in a bully's shoes, how does a bully think? What does a bully need to do or learn to become a bully and, most importantly, how the media, community and family are actually helping in making a bully more violent and more powerful every day.
There are three major aspects or types of bullying happening in schools. Bullying victims in school either face mental bullying, physical bullying or social bullying.
Naturally a bully will use one or more of these bullying types in exerting his/her dominance over the victim, possibly leaving a victim scarred for life without the bully knowing or, worse, caring.
To be a bully at school, one must be without remorse, empathy or ability to accept others, the expose argues.
As for physical bullying, it is quite difficult, thankfully, to perform. Though it's hands-down the most effective form of bullying at younger ages due to the developing cognitive functions of victims, it's also the easiest to spot by teachers and administrators as well as parents. In this case, bullies resort to being sneaky and getting away with it, relying on the inability of the victim to prove the incident in a report.
For an example, when it come to mental bullying, a bully at school will basically work on leaving an everlasting impact of anxiety and depression on the victim's psyche. From cruel pranks to veiled or even direct threats. A bully won't rest until the victim is mentally crushed.
A victim will start experiencing several devastating effects, all thanks to the bully's handiwork. From sleep deprivation to depression and statements like "I hate my life". A victim is never the same once bullied mentally.
Even on growing up, a bullying victim might suffer from ranger of issues from anxiety disorders, suicidal thoughts to even the inability to form cohesive social relationships.
Ciaran Connolly, Co-Founder of NoBullying.com, said "With the new school year upon us, we need to keep fighting bullying in school. It takes the entire community to end bullying in school."
He added that parents and teachers should make a point to educate the younger generations about the sad outcome of bullying online and offline. According to Connolly, it is quite imperative to press for more firm laws condemning all acts of bullying and harassment.
NoBullying.com features many pages dedicated to parents, teens, teachers, health professionals as well as posts related to cyber safety and the latest news about law making concerning curbing Bullying worldwide as well as inspirational Bullying Poems and famous Bullying Quotes.
The website regularly updates its bullying statistics and cyber bullying statistics as it is essential to understand how widespread the bullying epidemic is. It also regularly runs cyber bullying surveys and questionnaires to get recent updated statistics on everything related to cyberbullying.
He also added that anyone suffering from bullying in any form or way can always find advice and help on the NoBullying website – but if anyone is suffering from severe bullying or cyber bullying, the best thing is to talk to someone locally – a parent, teacher or local organization that has been set up to help with specialized councilors to deal with this topic.