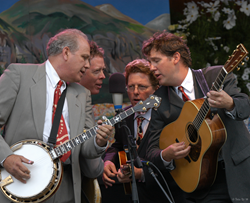 Hot Rize is very hot. The style of bluegrass they play, their fusion of traditional and contemporary bluegrass themes – Hot Rize is comprised of truly phenomenal musicians. -- Randi Benesch, Managing Director, Gordon Center
Owings Mills, MD (PRWEB) September 04, 2014
Award-winning, internationally-renowned bluegrass band Hot Rize is back on the road and back on fire. On Saturday, November 15, 2014, Hot Rize will perform music from "When I'm Free," their first studio album in 24 years, at the Gordon Center for Performing Arts in Owings Mills, Maryland.
To hear a sample track from "When I'm Free," go to http://www.esquire.com/blogs/culture/hot-rize-blue-is-fallin#comments. But better – come see Hot Rize live!
"There's a lot you can say about love, death, coal mines, farms, and trains," says Pete Wernick, Hot Rize banjo player and vocalist. Hot Rize, however, eager to "show that [they're] not stuck in the 20th century," is releasing 14 contemporary bluegrass tracks on "When I'm Free," on September 30, 2014, a month-and-a-half in advance of the Gordon show.
While the recordings are progressive, mixing new and traditional bluegrass styles, Hot Rize's musicians (including Wernick; Tim O'Brien on vocals, mandolin, fiddle and guitar; Nick Forster on vocals and electric bass; and Bryan Sutton on vocals and guitar) recorded the new album in traditional fashion facing one another in a circle, true to bluegrass form.
Renowned actor, comedian and banjoist Steve Martin (yes, the Steve Martin) once called Hot Rize "…the great modern bluegrass band . . . the connective tissue that links the great founders of bluegrass with the modern tradition."
Mid-way through the show, the Gordon and Hot Rize will also welcome another band on stage, Red Knuckles and the Trailblazers, a hilariously wacky but musically deft country swing band that Hot Rize frequently tours with.
"This is going to be an incredible show," said Randi Benesch, Managing Director of the Gordon Center. "Hot Rize is very hot. The style of bluegrass they play, their fusion of traditional and contemporary bluegrass themes – Hot Rize is comprised of truly phenomenal musicians. And, their interaction with the audience is hysterical."
Co-presented with the Charm City Folk & Bluegrass Festival, tickets are $35 in advance; $39 at the door, and may be ordered online at http://www.gordoncenter.com. The Gordon Center is located on the campus of the Rosenbloom JCC at 3506 Gwynnbrook Ave., Owings Mills, MD 21117. The Box Office can be reached at 410.356.7469.
###
The Peggy and Yale Gordon Center for Performing Arts is Baltimore County's premiere arts destination. The Gordon Center offers an eclectic variety of professional entertainment in music, theater, dance, family programming and film. You will experience world-class acoustics in an intimate, state-of-the-art venue. Free parking in well-lit spaces, handicap accessible, and equipped with a special RF system for the hearing impaired, the Gordon Center can be enjoyed by all.