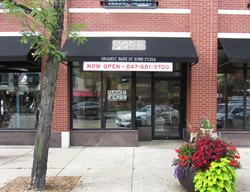 Highland Park, IL (PRWEB) September 02, 2014
Stopping by the farmers market is one of the simplest ways to sample the season's finest while supporting local producers — so what would make it even better? Putting it in pizza form.
That's exactly what Bake425˚ (479 Central Ave.) is doing. And on Friday, September 5, from 1-8 pm, the brand new bake-at-home pizza company is throwing a grand opening celebration at its flagship store in Highland Park, complete with delicious samples of its from-scratch pizzas, small-batch sodas and gluten-free cookies.
Pastry chef Ambrose Erkenswick, founder Bill Borneman and the Bake425˚ team will be on hand to talk about the ways in which they strive to reduce the number of steps from farm to crust — everything from sourcing local and organic ingredients to making their own mozzarella, sauces and dough in house daily. They will be joined by some of the artisanal producers and local farms that play starring roles on the Bake425˚ menu.
With the opening of Bake425˚, North Shore foodies can indulge in seasonal flavors already assembled into bake-at-home pizzas such as the Earth Lover, an umami bomb of criminis, portabellas and Yukon Gold potatoes scattered atop a layer of creamy bechamel and blanketed in shreds of handmade mozzarella and a drizzle of truffle oil. Or salads such as the Well Grounded, a colorful, flavorful mix of vitamin-rich kale, jewel-hued beets, ribbons of carrot, roasted pistachios and goat cheese crumbles tossed in a housemade balsamic vinaigrette.
The Highland Park location officially opened on August 22, 2014. It is the first of several stores expected to open in Winnetka, Evanston, Lake Forest, Hinsdale, Glencoe and the Lakeview neighborhood of Chicago later this year.
Bake425˚ is open Monday—Thursday from 2pm to 8pm and Friday—Sunday from 1pm to 8pm. Place your order by phone at 847-681-9700. (Online ordering is coming soon.)
More about Bake425˚
At Bake425˚ we believe the fewer steps between the farm and your fork, the better. That's why we're dedicated to bringing the freshest flavors to your table while supporting the local folks who make them possible. Our bake-at-home pizzas and gourmet salads are made from scratch daily, using only the highest quality all-natural, locally sourced or small-batch ingredients. You don't have to sacrifice nutrition for convenience; enjoying a wholesome, fresh-baked meal is a simple as swinging by Bake425˚.
To learn more about Bake425˚, please visit http://www.bake425.com. Follow us on Facebook at http://www.facebook.com/Bake425