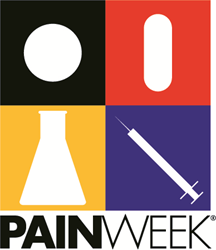 Montclair, NJ (PRWEB) September 02, 2014
PAINWeek, the National Conference on Pain for Frontline Practitioners, announced today that the American Pain Society (APS) will return to the conference for the 3rd consecutive year to contribute its expertise in pain management to the agenda. This activity is open to local Las Vegas practitioners; there is no fee to attend this program.
On Thursday, September 4, the APS will present its 3-hour educational activity that complies with the FDA's Risk Evaluation and Mitigation Strategies (REMS) for Extended-Release and Long-Acting (ER/LA) Opioids. APS is a member of the Collaborative on REMS Education (CO*RE), and PAINWeek is excited to partner with them to provide this program to frontline practitioners. This activity is intended to increase the knowledge of prescribers of ER/LA opioids so that they can more confidently and effectively manage patients on these medications. The program will provide general and product-specific information for this class of medications. Topics specific to ER/LA opioid analgesics will be covered, including assessing patients for treatment; initiating therapy, modifying dose, and discontinuing use; managing ongoing therapy; and counseling patients and caregivers about safe use, storage, and disposal. REMS course faculty includes Charles Argoff, MD, of Albany Medical College, and Brett Badgley Snodgrass, MSN, FNP-BC, who is a lecturer with Fitzgerald Health Education Associates, Inc.
Interested clinicians can download an admission ticket by going to http://www.painweek.org/REMS_ticket. Please note that this ticket is only valid for admission to this program. Attending additional PAINWeek courses requires a separate admission fee.
This Live activity, entitled "Risk Evaluation and Mitigation Strategies (REMS) for Extended Release and Long-Acting Analgesic Opioids: Achieving Safe Use While Improving Patient Care," with a beginning date of 09/04/2014, has been reviewed and is acceptable for up to 3.00 Prescribed credit(s) by the American Academy of Family Physicians. Physicians should claim only the credit commensurate with the extent of their participation in the activity.
About PAINWeek
PAINWeek is the largest US pain conference for frontline practitioners with an interest in pain management. Convening at The Cosmopolitan of Las Vegas for its 8th year on September 2-6, 2014, PAINWeek expects to welcome over 2000 physicians, nurses, pharmacists, and other healthcare professionals for a comprehensive program of course offerings, satellite events, and exhibits. Over 120 hours of continuing medical education activities will be presented. To learn more and register for PAINWeek 2014, visit http://www.painweek.org.