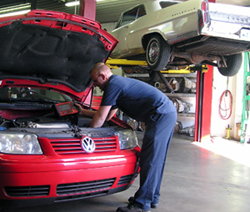 Mount Sterling, Kentucky (PRWEB) September 15, 2014
Camargo Transmission Repair, Inc. announces it's temporary promotion of transmission service discounts. Customers will now receive 10% off general transmission services, and 25% off a purchase of used transmissions with exchange. This deal ends October 1, 2014.
In cases of used transmission and transmission repair, Camargo Transmission Repair, Inc. offers its customers exemplary services to keep cars running at peak performance.
Camargo's professional auto techs bring a unique and much needed skill set to each and every vehicle. Customers receive superior, quality service at the most affordable price. Camargo stands behind its work with a warranty that not only demonstrates their confidence in results, but also ensures the customer's safety on the road.
The company's trained, licensed and insured technicians have the experience for designing and maintaining any domestic and imported vehicle. It offers a service that goes above and beyond the common and typical used transmission sale and transmission repair service.
A transmission is imperative in the structure of a car. It controls speed and transfers power from the engine to the wheels, making them critical components to your vehicle operation. Every transmission project must be approached with care, and even the smallest problem can leave a large dent in the customer's wallet, which can include expensive towing or – worse – an accident.
The staff at Camargo Transmission Repair, Inc. checks every aspect of the transmission. They don't just look for a problem, they look at overall performance. By testing the transmission, the staff can ensure the customer's vehicle is in working condition before they roll off the parking lot. At Camargo Transmission Repair, each customer is treated like family.
Every year, Camargo Transmission Repair works on hundreds of transmissions, getting people back on the road quickly and finding the best alternatives to accomplish that goal, including a replacement transmission. In these cases, we utilize a network of suppliers and services for used transmission and/or transmission repair. Camargo has access to the finest rebuild and aftermarket parts and services that not only repair but prevent future transmission issues.
From repair to replacement, Camargo Transmission Repair, Inc. has the resources and tools, the experience and education, and the affordable prices for every transmission.
For more information on used transmissions and/or transmission repair, visit http://www.camargotransmission.com.