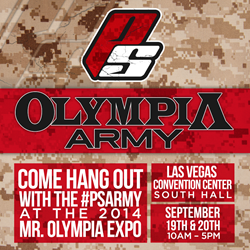 CEO & Pres TJ Humphreys states "We look forward to showing respect to my late friend Art Atwood while while displaying our explosive brand to fans, consumers and international distributors alike."
Plano, Texas (PRWEB) September 02, 2014
At the 50th Annual Mr. Olympia Fitness & Performance Expo, Prosupps will be an exhibitor at the Las Vegas Convention Center South Hall, located at 3150 Paradise Rd, Las Vegas, NV 89109 Booth #374 Sept 19th and 20th 10am-5PM.
Prosupps Company's vision is to encourage healthy living through exercise, diet and supplementation. They pride themselves on creating products specific to this vision, and provide the tools for all Prosupps customers to reach their personal health and fitness goals.
Professional Supplements "Prosupps" is committed to provide the highest quality product possible through our highly skilled and dedicated employees and our unique and cutting edge product assortment. They pursue an aggressive, outgoing research and development program thus insuring its future as a leader in supplementation and nutrition. They provide the highest standards of service available through their highly trained, domestic and international field representatives and customer service personnel. Some of their revolutionary supplements include Mr. Hyde, Vanish, Crash, Halotropin, and their newly released Mr. Hyde RTD.
Mr. Olympia is an international bodybuilding competition that is held annually by the International Federation of Bodybuilding & Fitness the title awarded to the winner of the professional men's bodybuilding contest at Joe Weider's Olympia Weekend.
Prosupss CEO T.J. Humphreys has been in the Sports Nutrition industry for nearly a decade. Starting with Lone Star Distribution in 2003, T.J. aggressively grew that business by opening three additional warehouses over the course of 7 years, with annual revenues that topped $65 million. Over those 7 years, T.J. built strong partnerships with retailers and consumers across the country. Now, captaining his own product line, T.J. is eager to take the knowledge and experience he has amassed over the years to take Prosupps to new heights.
Prosupps's CEO and President Mr. TJ Humphreys states, "Our debut at the 50th Anniversary of this very special event is significant for a variety of reasons. My friend and predecessor, the late Art Atwood, was one of the largest competitors to ever grace the stage at Mr. Olympia. Our presence here is just a small token of respect and appreciation to show my departed comrade, while displaying our explosive brand to fans, consumers and international distributors alike."
For more information, please contact
ProSupps USA, LLC Corporate Headquarters
601 Century Pkwy, Suite 300 Allen, TX 75013-8037
T: 1-888-575-7301
info@prosupps.com