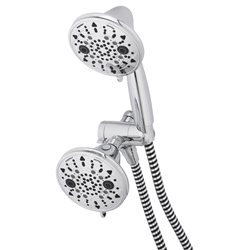 Sparks, NV (PRWEB) September 02, 2014
The Oxygenics Advantage Combo shower head is now available exclusively in all of the 202 BJ's Wholesale Club locations in the Eastern United States as well as online through BJs.com. The combination shower head will provide BJ's members with greater access to pressure boosting bath fixtures.
"BJ's Wholesale Club is always looking to help consumers find high quality products at an everyday low cost," said Travis Hawkins, president of Oxygenics. "We're excited to offer their members an exclusive product that is powerful, efficient, durable and affordable."
The Advantage Combo features patented Oxygenics technology that combines oxygen and water to produce a shower stream that feels more powerful than standard showers but actually uses less water. Total savings from using an Advantage Combo shower head can be up to $85 per year, depending on how often the shower is running. Savings come from both using and heating less water, thereby reducing water and energy costs. Each shower head boasts seven different settings for a total of 63 different spray combinations, includes a 72" hose, is WaterSense certified and offers a limited lifetime warranty – all for $39.99.
"BJ's is proud to partner with Oxygenics to add an exclusive product to the clubs that help our members use resources, such as water, more efficiently while also allowing them to save money," said Eric Ohnemus, Appliances & Lighting Buyer for BJ's Wholesale Club.
To learn more about the Oxygenics Advantage Combo or check local availability, visit bjs.com or oxygenics.com.
About Oxygenics
Oxygenics is a worldwide leader in creating shower heads that are powerful, comfortable, and efficient. Using a combination of cutting-edge technology and intuitive design, Oxygenics employs a full line of shower heads that deliver a satisfying shower experience while saving water and energy. To learn more, visit oxygenics.com.
About BJ's Wholesale Club
BJ's is dedicated to providing Members with high-quality, brand-name food and merchandise at prices that are significantly lower than supermarkets, supercenters, department stores, drug stores and specialty retail stores. BJ's carries the most product variety of any wholesale club with more than 7,000 items, including supermarket-sized staples, USDA Choice meats, all-natural and certified organic products and stock-up items. BJ's is the only wholesale club to accept all manufacturers' coupons and for greater convenience, offers the most payment options including EBT.