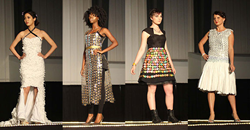 Lynchburg, Va. (PRWEB) September 01, 2014
Four designs created by Liberty University fashion merchandising students will be shown at the International Textile & Apparel Association's (ITAA) 2014 Annual Conference this November in Charlotte, North Carolina.
In the world of fashion, earning recognition at the international level is no small feat — especially when dresses made of bottle caps and trash bags are competing against professionally-designed garments.
Recycled materials took center stage at the annual fashion show put on by Liberty's Department of Family & Consumer Sciences (FACS) last April. Now, four of the top designs from that show have been selected to be shown at the ITAA conference in November.
When FACS students Melissa Breaux, Brianne Crist, Amy Yoon, and Tenzi Chacha took to the runway in bottle caps, puzzle pieces, and trash bags during April's "Go Green, Go Glam!" show, they assumed that the main event was over. But after their faculty mentor, Matalie Howard, submitted a list of the top six designs to ITAA, the students found themselves headed for recognition on an international stage.
Design professionals and students from universities across the world (including Cornell, Kent State, Virginia Commonwealth University, and Hong Kong Polytechnic) could only submit six designs in the areas of fiber arts, interior products, or clothing, yet after the ITAA's double-blind jury evaluated hundreds of entries, four of the 29 chosen designs were Liberty students' "green" garments.
"It's a way for these students to break into the fashion industry," Howard said, noting that name recognition is key in clothing design. "(ITAA's recognition) is a very elite selection. I consider them winners."
ITAA, with over 780 active members, is a professional organization composed of scholars, educators, and students in the textiles, apparel, and merchandising disciplines in higher education.
The students' clothing designs, though made with "up-cycled" materials such as soda can tabs and duct tape, passed ITAA's high industry standards when judged against non-recycled garments. The young designers were required to explain what contributions their creations made to the scholarly textile and clothing field, and their garments were judged on aesthetics, purpose, technique, execution, and innovation.
For Howard, it's the work ethic of Breaux, Crist, Yoon, and Chacha — who received no college credit for the extracurricular fashion show — that is truly impressive.
"I am so proud of them and their hard work," Howard said. "The quality of the FACS program is in the fact that our students are purposeful in their design work. They know that the industry is tough and that it is hard to get into. It's a 'pay-your-dues' kind of industry. And they are willing to go not just the extra mile but miles beyond.
"It thrills me and humbles me to know that work which I felt was top-notch on the runway at Liberty is now being recognized internationally."
The final award recipients will be determined on-site by judges during ITAA's November conference.
About Liberty University
Liberty University, founded in 1971, is the largest private, nonprofit university in the nation, the largest university in Virginia, and the largest Christian university in the world. Located near the Blue Ridge Mountains on more than 7,000 acres in Lynchburg, Va., Liberty offers more than 450 unique programs of study from the associate to the doctoral level. More than 200 programs are offered online. Liberty's mission is to train Champions for Christ with the values, knowledge, and skills essential for impacting tomorrow's world.