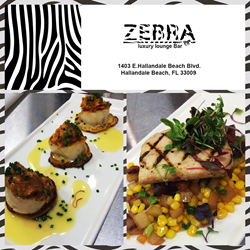 "Chef Sean has such a magnificent way of weaving favors that is provocative but not contrived. I had a deconstructed Cuban sandwich with Pork Belly, seared scallop and a tingly, acidic Napa cabbage slaw. Amazing!"
(PRWEB) September 02, 2014
Zebra Luxury Lounge officially announced the grand opening of their restaurant and is starting to operate in the Hallandale Beach area. The unique and exotic restaurant and lounge that has opened will provide people the thrill of trying new dishes and reinvented ones that are sure to give anyone the advantage of including a new restaurant in their list of favorite spots in the local area.
This is a new restaurant in town that will be serving a wide range of decadent dishes that will offer anyone ease when dealing with their food trips. Aside from food, Zebra Luxury Lounge will offer the Hallandale Beach area and surrounding cities a great option for their nightlife on Friday and Saturday nights. Once they get to visit the place, they are sure to return to the restaurant and lounge over and over and even recommend it to their friends and acquaintances.
Zebra Luxury Lounge opens daily at 11:30am till 2am; lunch is served from 11:30am till 3pm every day; dinner is served 5-11pm Sunday thru Thursdays and 5pm-midnight Friday and Saturday nights. There are also small plates that are served to guests until closing that makes the place really accommodating to guests arriving after midnight. Reservations can be called in at any time to make sure that guests will have their seats exclusively for them. The restaurant can seat 72 guests inside, 20 by the bar and 30 on the patio area. During Friday and Saturday nights, there are go-go dancers and DJs available and there will be a deep house music enveloping the entire area. There is also a dance floor and an amazing vibe. Happy hour daily is from open to 7pm and in the full liquor bar happy hour starts from 10pm till 1 in the morning from Sundays to Thursdays.
Through the opening of the restaurant, people will be aware that there is a new restaurant that they can visit whenever they feel like eating new dishes. It is sure give people the advantage of tasting the exquisite dishes that Chef Sean Michael Kelly has to cater every client's needs.
Zebra Luxury Lounge is managed by Charles Volpe. To make the dishes of the restaurants appealing to the palates of various guests, Executive Chef Sean Michael Kelly has joined the team to make the set of dishes that the restaurant will be serving for their guests.
"Chef Sean has such a magnificent way of weaving favors that is provocative but not contrived. I had a deconstructed Cuban sandwich with Pork Belly, seared scallop and a tingly, acidic Napa cabbage slaw affectionately named Scallop/Belly/Bouys. Amazing!", said Jack Tanksley
For those who are interested to visit the lounge, feel free to go to their site at 1403 E. Hallandale Beach Blvd., Hallandale Beach, FL 33009. Those who want to learn more information about the restaurant can visit the site at http://www.zebralounge.us and for those who want table reservations just have to call (754)888-9275.
Contact: Chuck Volpe, General Manager
Company: Zebra Luxury Lounge
Website: http://www.zebralounge.us
Address: 1403 E. Hallandale Beach Blvd, Hallandale Beach, FL 33009
Email Address: Charles(at)zebralounge(dot)us
Tel. No.: (754)888-9275